When you're trying to save money and time, slow cooker recipes are your friend. This slow cooker lemon chicken thigh with sweet potato mash is a great example of a budget-friendly meal. It's also very easy to make. The chicken can be put in the slow cooker in the morning and be ready for when you come home. All you need to do is quickly make the mash and you have a delightful, nourishing meal.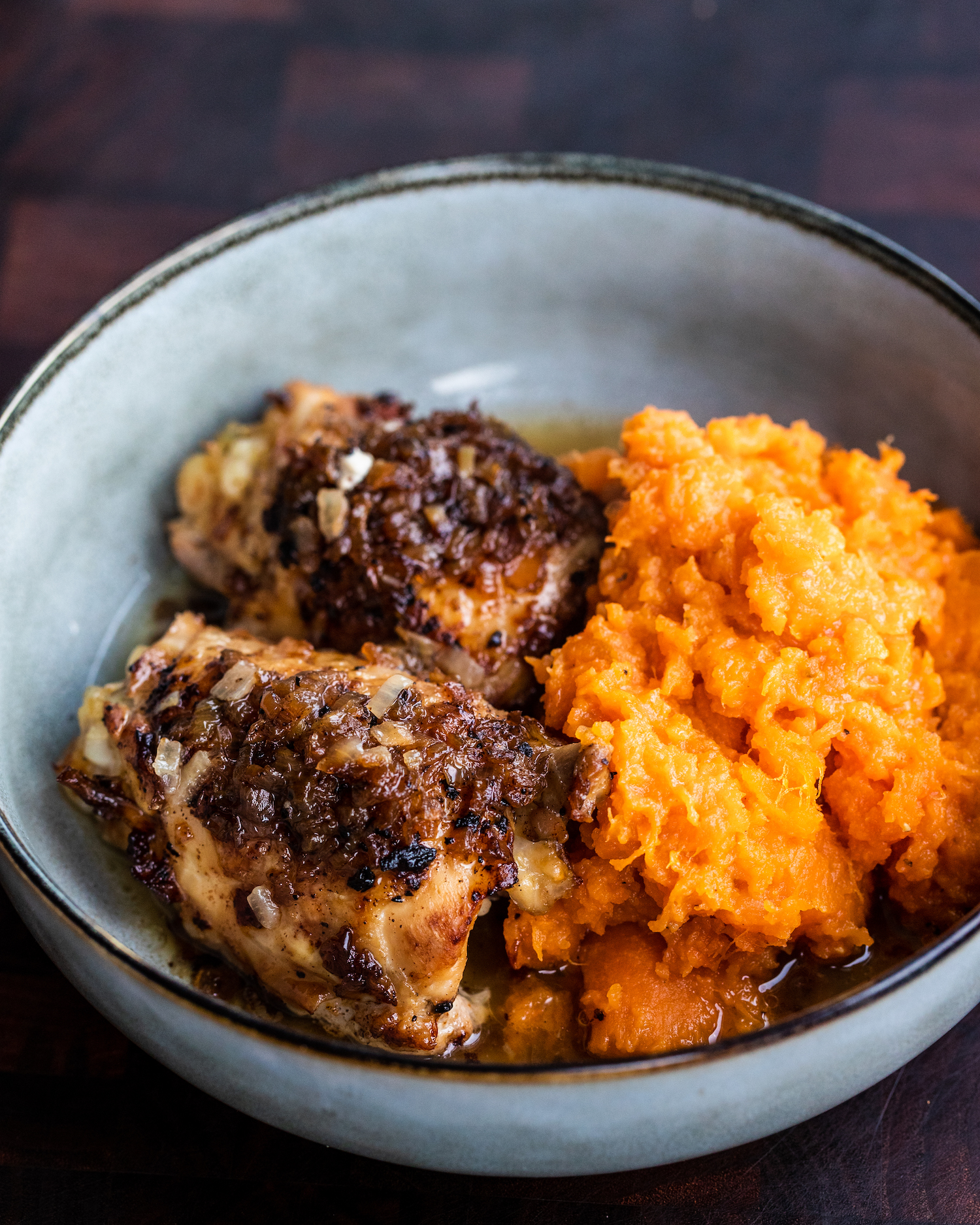 How to make slow cooker lemon chicken thigh
The full recipe and instructions are below. Click here if you want to jump straight to the recipe.
Why does slow cooked chicken thigh taste better with the bone in?
I always use chicken thigh the the bone in for slow cooking. As your dog is well aware, bones contain a lot of flavour. Note: don't give dogs or cats cooked chicken bones, they are too sharp. That flavour infuses into the meat when cooked, especially in a slow cooker where that process lasts for hours.
Will the chicken thigh skin get crispy in the slow cooker?
The chicken skin won't get crispy, but because we're not adding any liquid. It won't be soggy; it'll be firm enough to bite into.
If you have an air fryer, popping the skin-on thighs in there for 5 minutes at 200 degrees Celsius (390 degrees Fahrenheit) will get you a nice crispy finish. Make sure you brush off the onions before putting the thigh into the air fryer though – we don't want to reduce those to nothing.
Why pan fry the chicken before putting it in the slow cooker?
Pan-frying the chicken before placing it in the slow cooker can be beneficial for several reasons. Firstly, pan-frying helps to bring out more flavour and caramelise the outer layer of the chicken.
This caramelisation helps to seal in moisture and create a crust that will keep your chicken succulent. Additionally, high heat helps tenderise the chicken by breaking down some of its proteins and fibres. This leads to a more flavourful and tender result.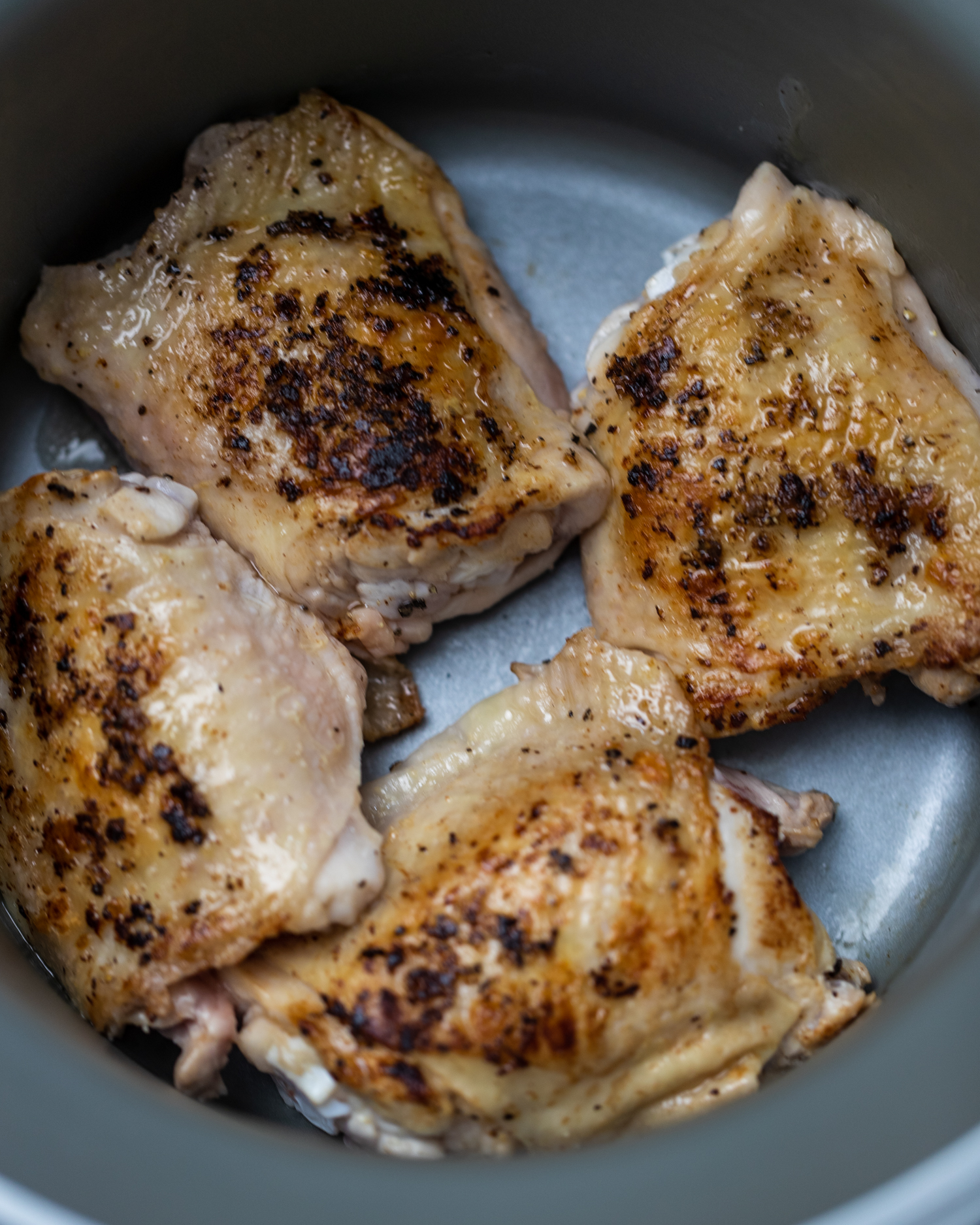 When searing your chicken in a pan make sure you use enough oil and butter. They help to prevent sticking whilst adding flavour into your dish. I prefer to use tallow as it'll give your chicken stacks of flavour and colour.
You should also season your chicken generously with salt and pepper before pan frying. This will help bring out the natural flavours of the meat. In this recipe we're also going to use lemon juice.
You'll sear them until they have some good colour. Then transfer your seared pieces directly into the slow cooker with whatever aromatics you'd like to add for extra flavour. Whether that's onion, carrots, garlic etc. I also cook those aromatics in the pan before putting them in the slow cooker. Again, it's all about getting the maximum flavour and colour.
Do I need to add any liquid to slow cooker chicken thighs?
You don't need to add liquid to the slow cooker when cooking chicken thighs on low. The natural juices from the thigh will be released throughout cooking. Having the slow cooker on low will mean those juices don't evaporate.
If you're cooking chicken breast, or if you're cooking thighs on high, a little liquid helps keep the chicken moist. This prevents it from drying out in the long cooking process. The best liquids for slow cooked chicken include broth, white wine or water.
Do I need to marinate chicken before putting it in the slow cooker?
Marinading chicken before cooking it in the slow cooker is not necessary, but can be beneficial. Marinades are a great way to add flavour and lock in moisture. A marinade typically consists of an acidic component (like lemon juice, vinegar or yogurt), oil and herbs and spices, which helps tenderise the meat.
However, this recipe is really simple and is aimed at being quick. So we're not using a marinade as such, just a little lemon juice, salt and pepper. The whole thing will come out extremely moist, tender and flavourful from the slow cooker.
Is it OK to put raw chicken in the slow cooker?
It's perfectly OK to put your chicken in the slow cooker raw. I do exactly that in this one-pot slow-cooked chicken recipe. As long as the internal temperature of the chicken gets to 75 degrees C (165 degrees F) you're good. Unless your slow cooker is broken, it'll get to this temperature. If you're unsure what temperature your slow cooker operates at, check with the manufacturer's guidelines. Having a probe thermometer in your kitchen kit is a really good idea. It's an easy way to remove doubt in these situations and will come in handy for other things.
Is it better to cook chicken thighs slow or fast?
It is generally better to cook chicken thighs slow rather than fast. Slow cooking allows more time for the meat to absorb flavours from seasonings and any other ingredients used, creating a more flavourful dish.
Additionally, cooking chicken thighs slowly helps keep them tender and juicy, rather than dry and tough. The latter can happen if cooked for too long at high temperatures. This is why a slow cooker is perfect for this recipe. Even with the slow cooker on high for a few hours, you'd still get tender chicken. We're going to keep it on low for 4 hours. This gives us those wonderful juices to spoon over the chicken and sweet potato at the end.
However, when frying or sautéing chicken thighs before putting them it is best to use high heat. This is to brown the outside of the meat for a golden crust on each piece. This will provide an added layer of flavour as well as add texture to your dish!
How long to cook chicken thighs in the slow cooker?
There are a few considerations here. Thighs tend to have a higher fat content than other cuts of chicken. This results in a more flavourful dish. Generally, it is recommended to cook chicken thighs in the slow cooker for 4-5 hours on low or 2-3 hours on high.
However, depending on how large your pieces are, you may need to adjust your cooking time accordingly. Chicken thighs that are cut into smaller pieces may require less time compared to larger ones. While boneless skinless chicken thighs will cook faster than bone-in ones. In addition, if you are using frozen chicken thighs, the cooking time may be longer as well.
It is also important to note that if you are cooking your chicken with vegetables such as potatoes or carrots, these should be added at least halfway through. This is so they don't become overly soft and mushy. Additionally, some vegetables such as onions and bell peppers release moisture during cooking which can prevent the chicken from becoming too dry. Adding certain herbs and spices such as rosemary or oregano at the beginning will help infuse more flavour into your dish throughout its cooking process.
Finally, always check that the internal temperature of your cooked poultry has reached 75 degrees Celsius (165 degrees Fahrenheit) before serving it up. This ensures that any potential bacteria has been killed off while guaranteeing juicy and succulent meat each time!
Can I do chicken breast in the slow cooker?
Yes, you can cook chicken breast in the slow cooker, but this recipe works best with chicken thighs. When using a slow cooker to make chicken breasts, you should add some liquid. This is because they don't have the fat content of chicken thighs and so run the risk of getting dry.
But…
You don't need to use a slow cooker for chicken breast at all. Chicken breast only takes 16-18 minutes in the oven at 220 degrees Celsius (430 degrees Fahrenheit). So how much time are you really saving?
To guarantee chicken breast stays moist in the oven cover it for the entire cook. Save the slow cooker for bone-in chicken recipes like this one.
Print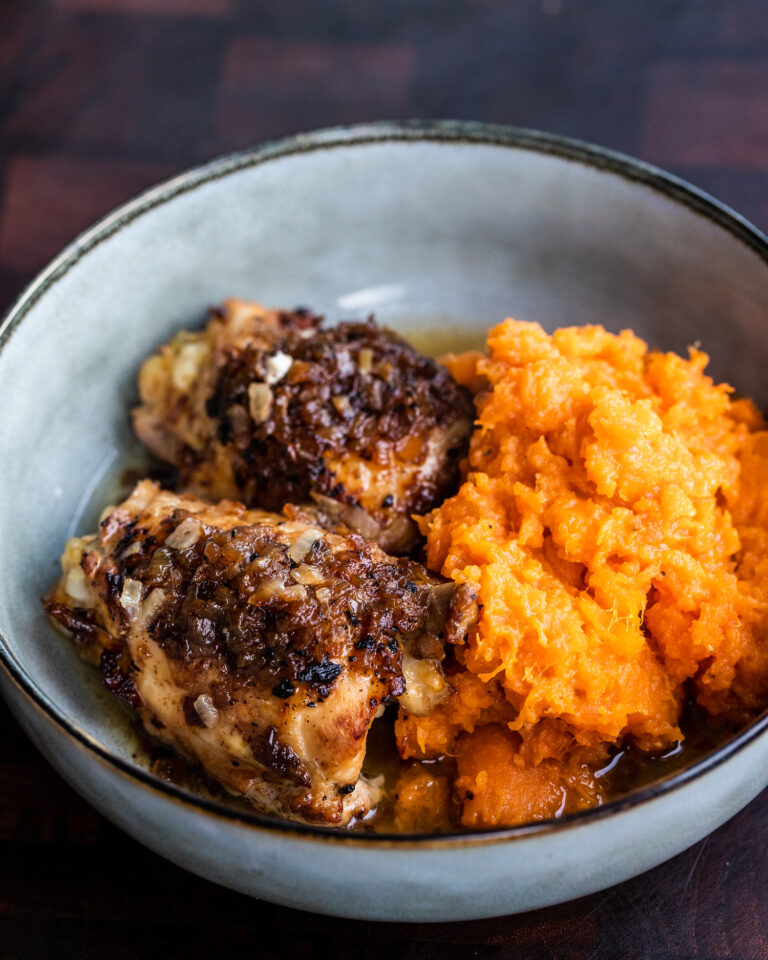 Slow Cooked Lemon Chicken with Balsamic Onion and Sweet Potato Mash
This is one of the best recipes from a perspective of how much time it take, Vs how nourished you'll be. The chicken is fall off the bone tender and will be ready when you come home from work. Then you'll take 15 minutes to whip up some sweet potato mash and you're good to go.
Total Time:

4 hours 15 minutes

Yield:

2

people

1

x
For the chicken
4

bone-in skin-on chicken thighs

1

lemon

1/4 tsp

black pepper

1 tsp

salt

1 tbsp

tallow

1

brown onion

2 tsp

balsamic vinegar
For the mash
350

g

sweet potato, peeled and cut into chunks

50

g

butter

2 tsp

salt
Instructions
Get the chicken thighs in a medium bowl and juice over the lemon. Add the salt and pepper.

Bring a pan to a medium high heat and add the tallow. You can also use olive oil and a knob of butter.
Place the chicken thighs in the pan, skin side down.

Sear for a few minutes until they have some good colour, then transfer to the slow cooker.

Turn down the heat of your pan a little. Dice your onion and cook for a few minutes in the pan.

Add the balsamic vinegar to deglaze the pan.
Spoon the onions over the chicken in the slow cooker.

Set to cook for 4 hours on low.
When you're ready to eat, boil a pot of water and add the sweet potato. Cook for 10 minutes or until soft enough to mash.
Add the butter and salt (and a little pepper if you like) and mash.

Serve two thighs each with half the sweet potato mash each. Make sure you get the juices and all of the onions from the slow cooker.
Notes
I use tallow to brown the meat since it will give a wonderful colour and flavour, but you can use any other animal fat, or a little olive oil and butter.
Author:

Prep Time:

15 minutes

Cook Time:

4 hours

Category:

Easy dinner

Method:

Slow cooker
Nutrition
Serving Size:

1/2 the recipe

Calories:

987

Sugar:

12.3 g

Sodium:

4079.3 mg

Fat:

62.7 g

Carbohydrates:

46.1 g

Protein:

65 g

Cholesterol:

393 mg
Keywords: Slow cooked lemon chicken balsamic onions sweet potato mash
Slow cooking chicken is great because it helps to lock in moisture. This keeps the meat tender, resulting in a succulent and juicy dish. Additionally, slow cooking allows more time for the flavours from seasonings and other ingredients to be absorbed by the poultry. In turn allowing you to create delicious dishes that are full of flavour.
Since slow cookers also require minimal hands-on effort and supervision. They are convenient for busy households or those who want an easy meal after work or school.
Lastly, slow cooked chicken recipes are generally quite forgiving when it comes to ingredient amounts and measurements. Even novice cooks can make amazing meals with just a few simple steps! This recipe for slow cooker lemon chicken thigh is a great place to start.
Use the comments section below to let me know how you liked the recipe. Please also leave a rating if you made it, as it really helps me reach more people. Do ask questions if you have them.