If you're a fan of the mouth-watering flavours of tandoori chicken but want a quicker cooking method, I have just the solution for you. It really is quite something that you can cook a delicious tandoori chicken air fryer recipe that retains all the classic flavours while cutting down on cooking time.
Short Summary
Tandoori Chicken is a flavourful, smoky dish made quicker and convenient with air frying.
Traditional tandoor oven vs. air fryer: the latter offers convenience.
Follow this step-by-step recipe to marinate chicken in an air fryer for juicy & tender results!
The Appeal of Tandoori Chicken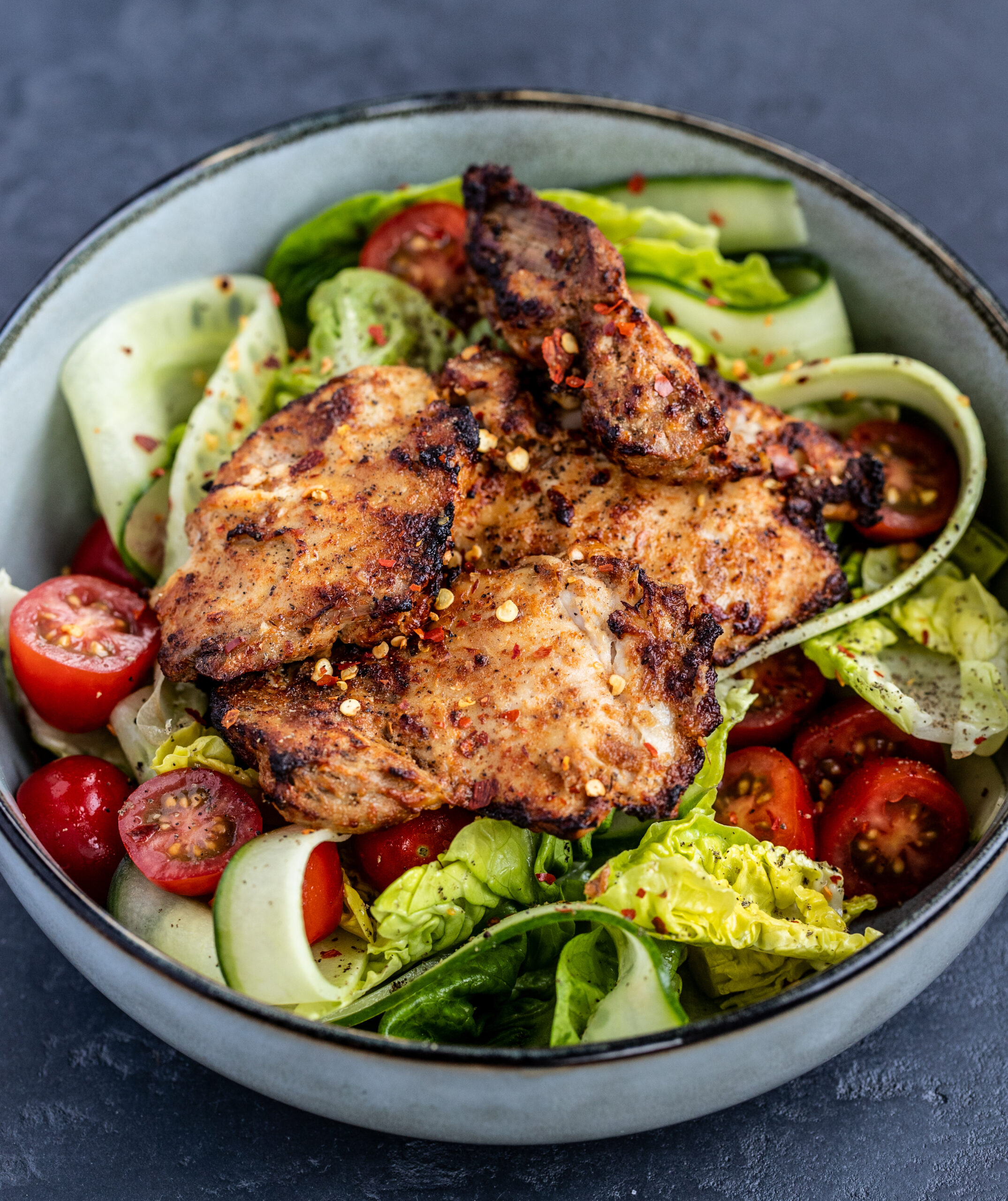 Tandoori chicken is an iconic Indian dish that has captured the hearts and taste buds of food enthusiasts worldwide. Its unique blend of spices and smoky, charred flavour makes it an unforgettable culinary experience. Traditionally, it's is cooked in a clay oven called a tandoor, which gives it a distinct smoky taste.
However, not everyone has access to a tandoor – actually, probably most people – and that's where the magic of the air fryer comes in.
Traditional Tandoor Oven vs. Air Fryer
The traditional tandoor oven has been a staple in Indian cooking for centuries. The cylindrical clay oven is designed to reach extremely high temperatures, resulting in a unique smoky flavour and charred appearance for the tandoori chicken. While the tandoor oven produces delicious results, it's not the most practical option for many home cooks.
Enter the air fryer. This modern kitchen appliance has revolutionised the way we cook, offering a convenient and healthier alternative to traditional cooking methods. When making air fryer tandoori chicken, you can still achieve the delicious smoky flavour and charred appearance while using less oil and cooking at a lower temperature. The result is a juicy, tender, and flavourful tandoori chicken that's just as satisfying as the traditional version.
Health Benefits
Besides the convenience factor, air frying tandoori chicken offers a range of health benefits. This dish is already a, high-protein, and low-carb dish, making it an excellent choice for meat eaters who want a healthy meal.
The spices used in tandoori chicken, such as cayenne pepper, also provide various health benefits, including boosting metabolism and reducing inflammation.
Essential Ingredients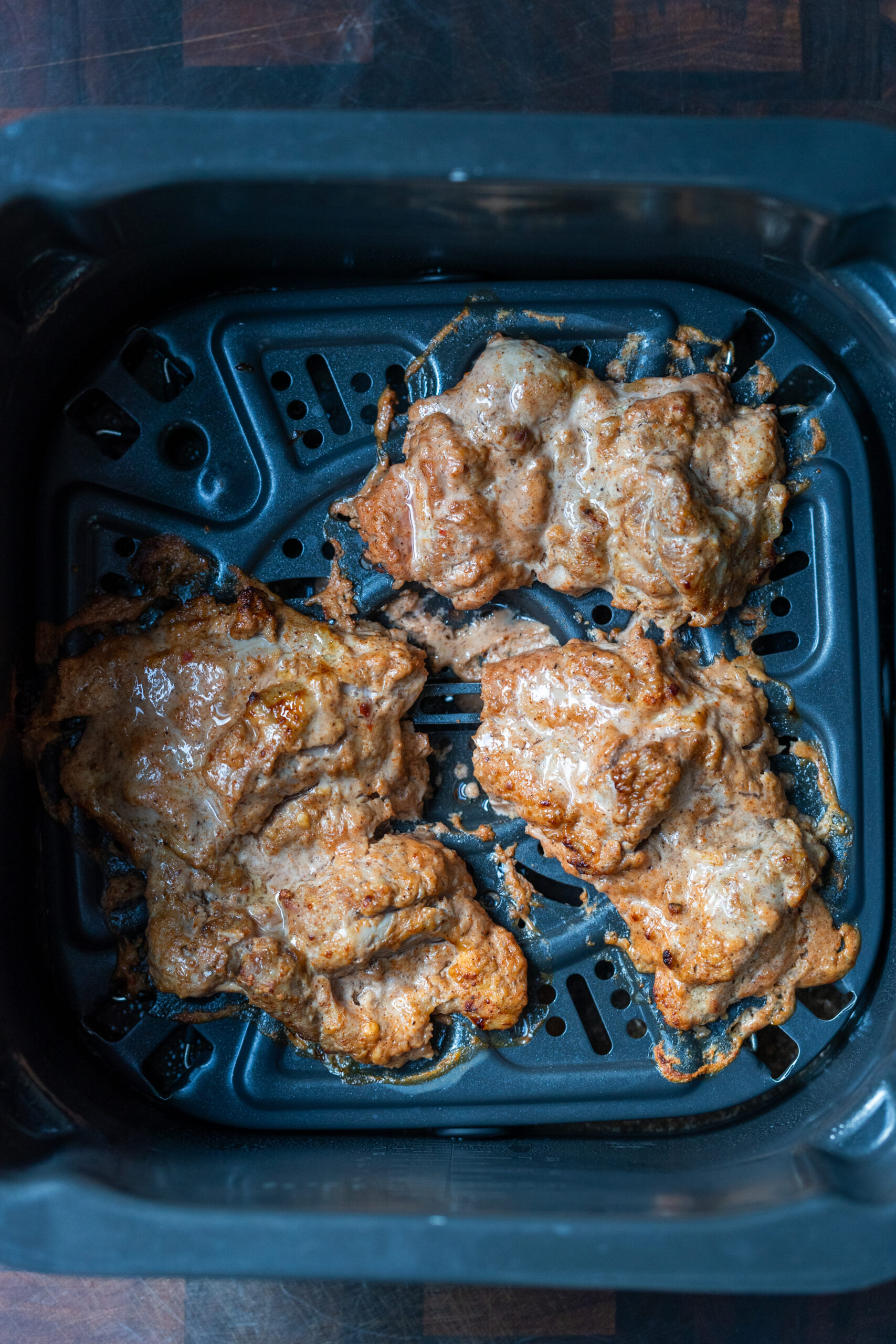 To make delicious air fryer tandoori chicken, you'll need a few essential ingredients. The star of the show is, of course, the chicken. Chicken drumsticks are a popular choice, but you can also use other cuts of chicken like thighs, breasts, or wings. Along with the chicken, you'll need yogurt, ginger, garlic, Indian spices, lime juice, and Kashmiri red chili powder. The latter is used for colour. You could also use smoked paprika or even beet powder.
When it comes to the spices, tandoori chicken gets its unique flavour from a blend of various spices, such as coriander, cumin, garlic powder, ginger, cloves, mace, fenugreek, cinnamon, black pepper, cardamom, nutmeg, and Kashmiri red chilli. These spices not only give the chicken its delicious flavour, but also provide a beautiful colour that's characteristic of tandoori chicken.
To make life even easier, you can buy a tandoori spice mix, ready made. This is what I've used in the recipe below. Having said that a lot of spice mixes seem to miss the Kashmiri red chilli powder, which can be bought separately.
Choosing the Right Chicken Cut
Selecting the right cut of chicken for air frying is crucial to achieve the desired results. Boneless chicken breast or thighs are the best choices for air frying, as they cook evenly and result in juicy, tender meat. However, you can also use skinless chicken legs, which are another popular option for tandoori chicken.
When air frying boneless chicken thighs, it's essential to monitor the cooking time and internal temperature to ensure perfectly cooked meat. At 195°C (380°F), boneless chicken thighs should cook for about 12 to 14 minutes, reaching an internal temperature of 75°C (165°F).
Always check the internal temperature of the chicken to ensure it's cooked through and safe to eat.
Spice Mixes and Marinades
Spice mixes and marinades for tandoori chicken can vary from recipe to recipe. You can use store-bought options, or you can create your own blend of spices to suit your taste preferences.
Regardless of which spice mix and marinade you choose, the key to a delicious tandoori chicken is to marinate the chicken in yogurt and spices, allowing the flavours to penetrate the meat and create a moist, tender, and flavourful dish.
Step-by-Step Air Fryer Tandoori Chicken Recipe
Now that we've covered the essential ingredients and variations, let's dive into the step-by-step air fryer tandoori chicken recipe. Of course the full recipe is below for quick reference, but here I'll walk you through the process of marinating the chicken in yogurt and spices, preheating the air fryer to the optimal temperature, and cooking the chicken to perfection, ensuring a delicious and healthy meal.
Marinating the Chicken
Marinating the chicken in yogurt and spices is a crucial step in achieving moist and delicious tandoori chicken. The yogurt helps to tenderise the meat while the spices infuse the chicken with bold flavours. For best results, use thick whole-milk plain yogurt, such as Greek yogurt. Mix together yogurt, tandoori masala, onion powder, paprika, salt, brown sugar, fenugreek leaves, ginger, garlic, lemon juice and oil into a delicious marinade.
Ideally, you should let the chicken marinate for at least 30 minutes to allow the flavours to penetrate the meat fully. However, marinating overnight will provide an even more intense flavour and tender, juicy chicken.
Cooking in the Air Fryer
To achieve perfectly cooked tandoori chicken, preheat your air fryer to at 195°C (380°F) for 5 minutes. Cooking the chicken at this temperature ensures a crispy exterior while keeping the meat juicy and tender on the inside. For chicken drumsticks, cook them for approximately 22-24 minutes, checking the internal temperature with a meat thermometer to ensure it reaches 165°F. If cooking boneless chicken breasts, the cooking time will be slightly shorter, typically around 13 to 15 minutes.
After cooking, allow the chicken to rest for about 5 minutes before serving to lock in the juices and flavours. If you desire charred marks on the chicken, keep it in the air fryer for an additional 1-2 minutes, monitoring closely to avoid overcooking.
Serving Suggestions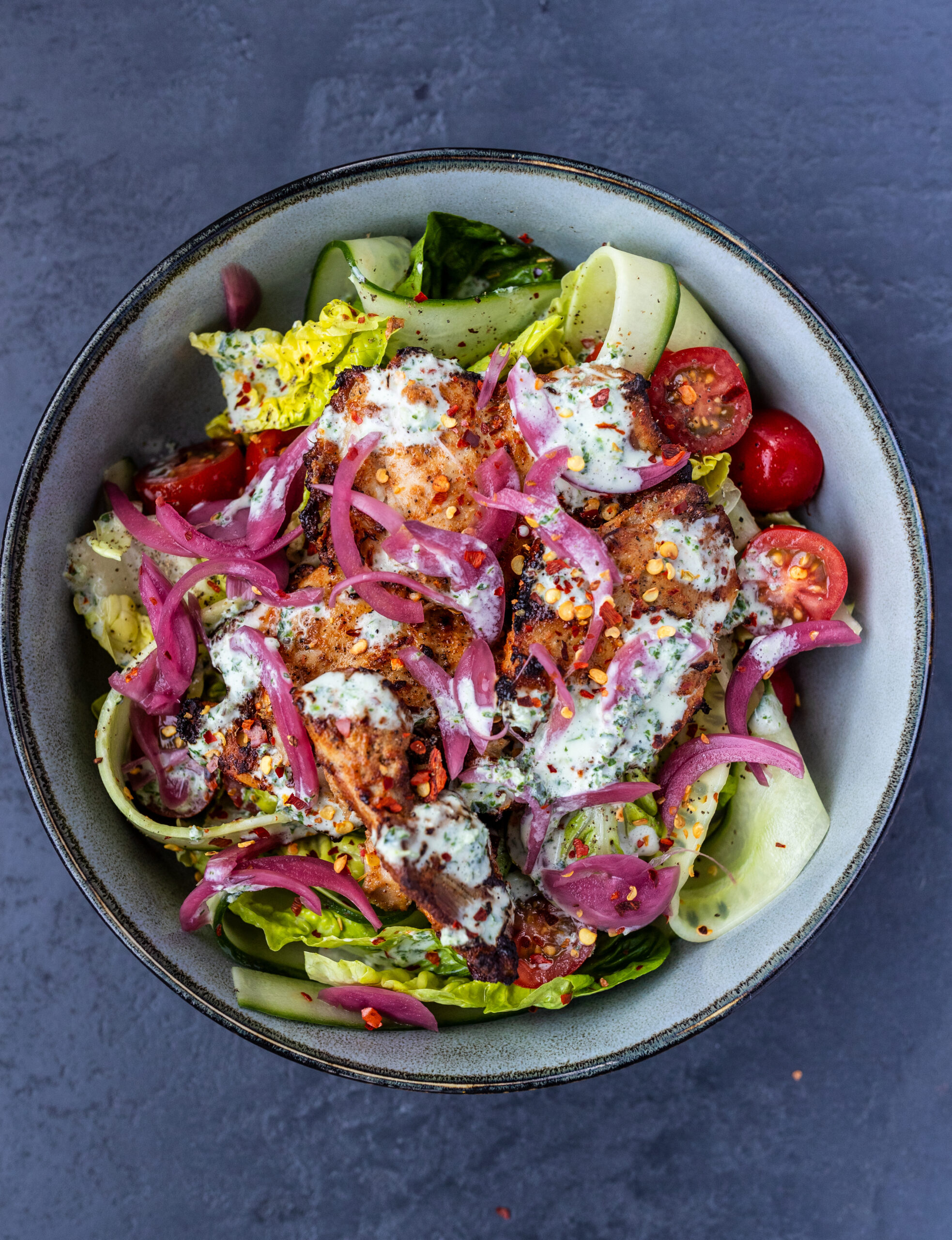 Air fryer tandoori chicken is just one of the many delicious air fryer chicken recipes you can try. This versatile dish can be served with a variety of sides to create a complete and satisfying meal. Rice is one of the most obvious options, but it's a classic for a reason.
Additionally, a cucumber radish salad, air fryer asparagus, and air fry peppers and onions are delicious choices.
You can also serve tandoori chicken with traditional Indian sides like turmeric rice, Kachumber salad, and cucumber raita for a more authentic dining experience. The possibilities are endless, so feel free to get creative with your serving choices!
Storing and Reheating Leftovers
If you find yourself with leftover tandoori chicken, it's essential to store and reheat it properly to maintain its flavour and quality. Store leftover chicken drumsticks in an airtight container in the fridge for up to 3 days.
To reheat the leftovers, simply place the chicken back in the air fryer and cook for 3-4 minutes at 195°C (380°F), ensuring the internal temperature reaches 75°C (165°F) before consuming.
For a tasty twist on your leftovers, you can also add the tandoori chicken to a masala sauce to create a delicious curry.
Tandoori Chicken Variations
While tandoori chicken is a classic dish, there are various variations you can explore to add some diversity to your cooking repertoire. Some popular variations include peri peri chicken, Thai Grilled Chicken Thighs, and Jamaican Jerk Chicken, which use different spice blends and cooking techniques to create unique flavours.
When trying these variations, remember to cook chicken using the appropriate spices and marinate the chicken for at least an hour to ensure the best possible flavour and tenderness.
Air Fryer Tips and Tricks
To get the most out of your recipes, keep these helpful tips and tricks in mind.
First, always preheat your air fryer before cooking to ensure even and consistent heat distribution. Use an oil sprayer to lightly coat the basket and chicken with oil, promoting a crispy exterior without adding excess calories.
A meat thermometer is a valuable tool for checking the internal temperature of the chicken and ensuring it's cooked through and safe to eat. Lastly, remember that marinating the chicken in yogurt and spices is crucial for achieving a bold, flavourful, and moist tandoori chicken, so don't skimp on this important step.
Summary
In conclusion, air fryer tandoori chicken offers a more convenient alternative to traditional tandoor oven cooking while maintaining the delicious flavours and textures we all love. By following our step-by-step recipe, choosing the right chicken cut, and experimenting with various spice mixes and marinades, you can create a mouth-watering tandoori chicken dish that will impress your family and friends. Don't forget to explore different serving suggestions and variations to keep your meals fresh and exciting. Happy air frying!
Print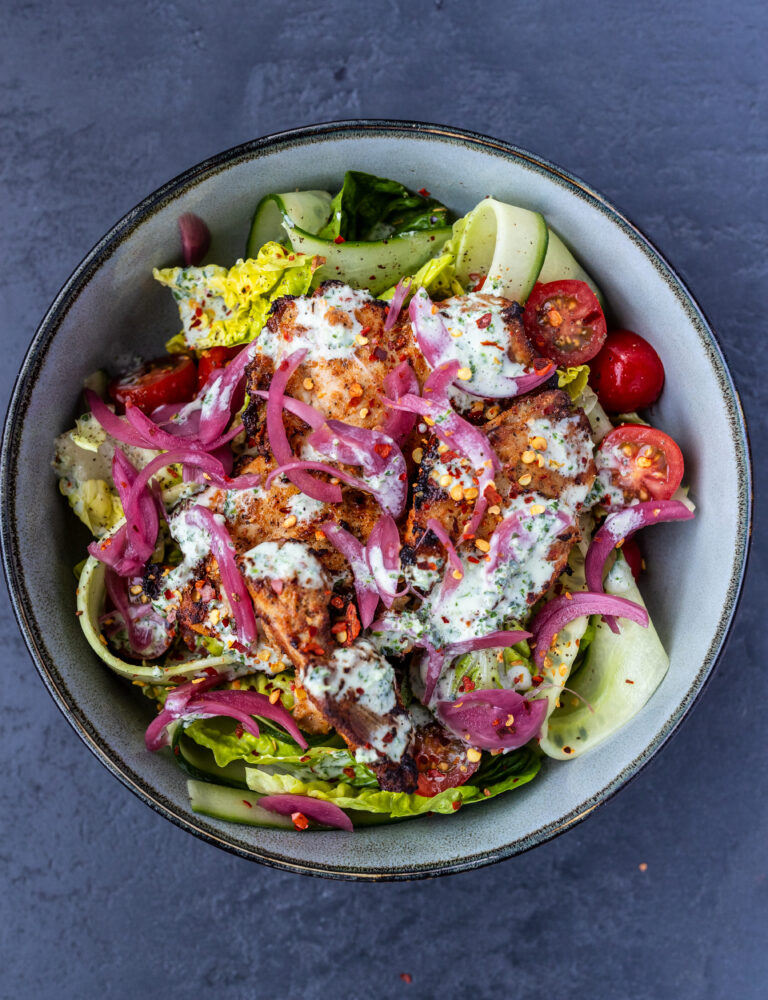 Delicious Tandoori Chicken Air Fryer Recipe
Total Time:

40 minutes

Yield:

2

1

x
4

boneless skinless chicken thigh
For the marinade
150g

natural yoghurt

3

cloves garlic, minced

1

small piece of ginger, peeled and minced

1 tbsp

tandoori spice mix

1 tbsp

Kashmiri red chilli powder

1 tbsp

lime juice

1 tsp

salt
For the salad
100g

cherry tomatoes

1/2

a cucumber

2

baby gem lettuce
For the salad dressing
1 tbsp

avocado or olive oil

1 tsp

lemon juice
For the sauce
50g

natural yoghurt

1 tbsp

fresh mint

1 tbsp

coriander leaves

1

green chilli

1

lime, juiced

1/2 tsp

salt
To garnish
Thinly sliced red onions or quick pickled red onions
Instructions
If you bought bone in skin on chicken thighs (which I recommend because it's cheaper), remove the skin and cut away the bone. Place those in a bowl.

Add the marinade ingredients to the chicken in the bowl and mix well with your hand. Cover and refrigerate to marinate for as long as you can stand it. Give it at least 30 minutes, but overnight would be better.

When you're ready to go, place the thighs in the air fryer and cook for 8-10 minutes at 190C. Turn them over and cook for another 8-10 minutes at 180C.

Whilst they're cooking, prepare your salad. Tear your little gem lettuce leaves. Romaine lettuce works well here too. Place in a bowl.

Halve the tomatoes and add to the bowl.

Ribbon the cucumber. Add the ribbons to the bowl. Set this to one side until you're ready to serve when you'll add the oil and lemon/lime juice.

Blend the sauce ingredients together.

When you're ready to serve, toss the salad ingredients with the oil and lemon juice. Arrange on your plates and top with the tandoori chicken. Drizzle the yoghurt sauce generously over the top and finish with the red onions/pickled onions.

I sometimes like to serve this with a simple homemade flatbread, or naan. Of course rice is great too.
Author:

Prep Time:

20

Cook Time:

20

Method:

Air Fryer

Cuisine:

Indian
Frequently Asked Questions
Can air fryer be used as tandoor?
Air fryers can be used to make delicious tandoori chicken. Of course, for the full authentic experience and 'proper' tandoori chicken you'd want a tandoor, but an air fryer offers an easy, fast solution that produces authentic tasting chicken with a slightly charred outside and tender, juicy inside.
So yes, air fryers can be used as a tandoor!
How much time does it take to cook chicken in air fryer?
Cooking chicken in an air fryer is fast and efficient! A whole chicken can take as little as 40 minutes, and chicken breasts only 15 minutes – much quicker than a regular oven.
So if you're looking to make delicious and healthy chicken quickly and using less energy, this is the way to go!
At what temperature is chicken done in air fryer?
Whatever method you use to cook chicken, you want it to have an internal temperature of 75°C (165°F). To achieve this, preheat the air fryer to 195°C (380°F) and lightly grease the basket with cooking spray.
Place the chicken breasts in the basket and cook for 4 minutes, flip, and cook for another 4 minutes or until it reaches an internal temperature of 165F.
How long does chicken take in the air fryer at 200?
Cooking chicken in an air fryer at 200 degrees Celsius/ 400 degrees Fahrenheit takes around 11-12 minutes for it to be cooked through.
This is the best way to ensure it is cooked safely and thoroughly.
Can I use chicken breasts instead of drumsticks for air frying tandoori chicken?
Sure, boneless chicken breasts or thighs can be substituted for drumsticks when air frying tandoori chicken – they'll just need less cooking time, so keep an eye on them to avoid drying out.
This is a great way to make a delicious meal without having to use a traditional tandoor oven. Air frying is a great way to get the same flavour and texture.