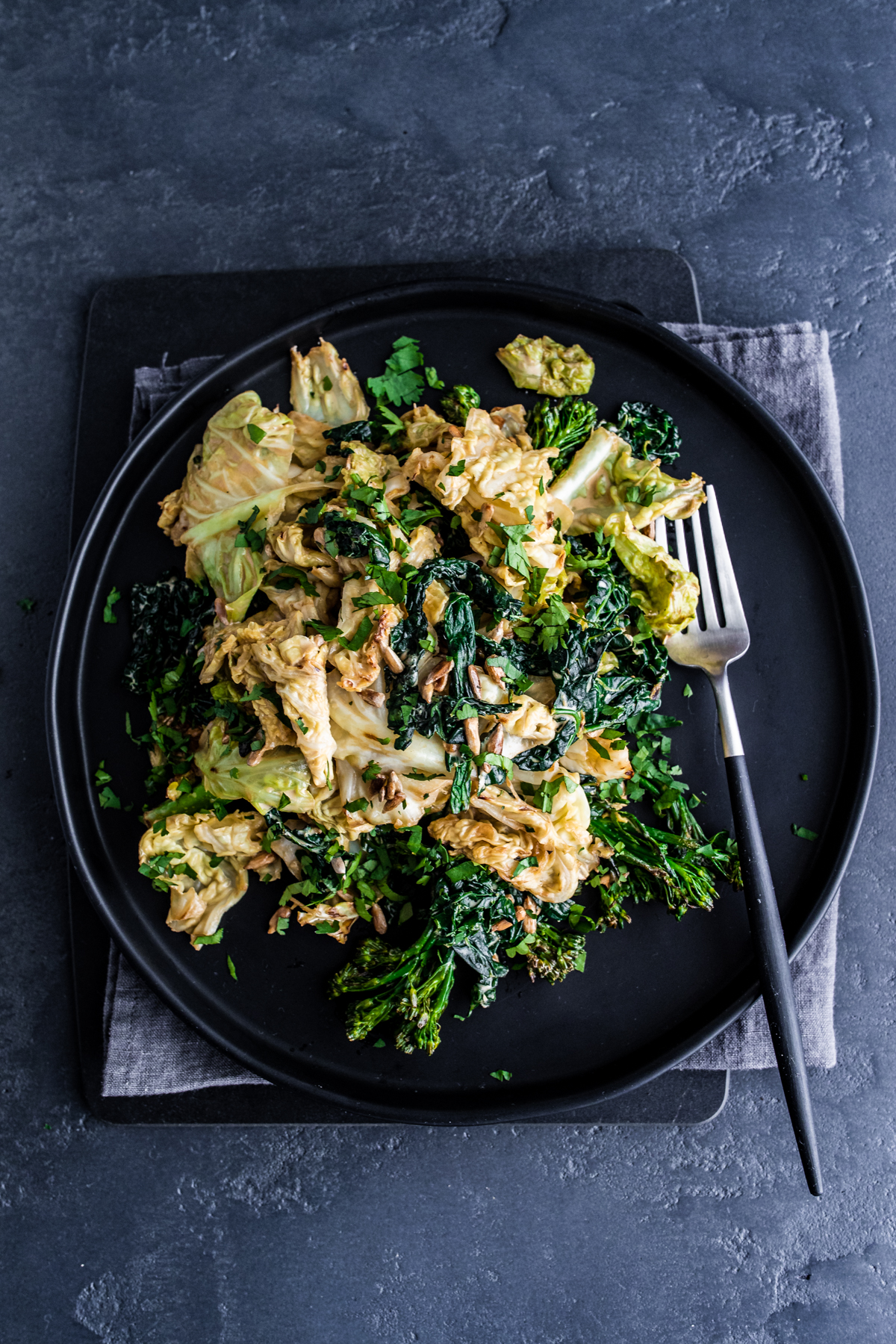 If you're looking for a broccoli rabe recipe, I've got a treat for you.
This salad is so easy and so delicious, I'm pretty confident it will become one of your favourite ways to eat greens. I think it's the best broccoli rabe salad recipe you'll come across today 🙂
It's a perfect healthy lunch recipe, either made fresh or prepped ahead of time. Because we're using some quite robust greens, it will last in a sealed container in the fridge for a day.
It would also go really beautifully with this Caramelised Onion & Feta Frittata.
Broccoli Rabe Vs Broccolini
Broccoli rabe is a member of the turnip family, so tends to be more bitter than broccolini, which is more of a mix of broccoli and Chinese broccoli. Broccolini has a flavour that you'd more normally associate with broccoli.
Either can be used in this recipe, so whichever one is either easier to get hold of, or which one you'd actually prefer to eat can sway your choice here.
UK Versions
If you're in the UK, you'll want to go for Tenderstem broccoli, which is actually a trademarked name for what looks to me to be broccolini. there is one last curveball in that you can also get purple sprouting broccoli, which from a taste perspective, seems to be a purple version of broccolini or Tenderstem.
In any case, all of these variants can be used for this recipe perfectly well.
preparing & Cooking Broccoli Rabe
For this recipe we'll be using broccoli rabe. I much prefer this to regular broccoli, because it seems to have more flavour. I also like the variation of texture that you get in the stem, Vs needing to cut away most of the stem in a head of broccoli.
Cooking broccoli rabe is so simple; you just hit the pan with a little oil – I like to use pure coconut oil from a spray bottle – and cook until it's tender. I use a non-stick ceramic pan, which allows me to get a nice intentional char as it's cooking.
If you do want to use florets of broccoli, you can, but you'd need to steam or cook in water before adding them to the pan, since they won't cook properly in the pan.
Here's a replay of the livestream where I made this dish. We're live every Thursday at 6pm Uk / 1pm EST on my Eat Like An Adult Youtube Channel.
Broccoli Rabe Salad
This broccoli rabe salad a perfect healthy lunch recipe, either made fresh or prepped ahead of time. Because we're using some quite robust greens, it will last in a sealed container in the fridge for a day.
Nutrition (For one serving)
Sodium:
651
mg
Calcium:
284
mg
Vitamin C:
148.7
mg
Vitamin A:
9890
IU
Sugar:
7
g
Fiber:
9
g
Potassium:
1015
mg
Calories:
377
kcal
Saturated Fat:
3
g
Fat:
25
g
Protein:
17
g
Carbohydrates:
31
g
Iron:
5.2
mg
Ingredients
Dressing
100

g

sunflower seed butter

20

g

ginger

(fresh and peeled)

1/2

tsp

salt

2

tsp

lemon juice

1

tsp

honey

75

ml

water

2

tbsp

olive oil

1

tbsp

tamari
Salad
350

g

broccoli rabe

225

g

cavolo nero

800

g

savoy cabbage

4

tbsp

sunflower seeds

6

tsp

cilantro

(finely chopped)
Instructions
Dressing
Blend all ingredients together in a high speed blender

Will keep in a sealed container for up to 5 days
Salad
Spray your pan with a little coconut oil and start cooking the broccoli on a medium heat.

After 5 minutes add the savoy cabbage and cook for another 3 minutes, turning the greens and broccoli regularly.

Finally, add the cavolo nero and cook for another 2 minutes. All of your green should be nicley wilted, but not overcooked. They should have a nice amount of charring on.

Transfer the greens to a bowl.

On the same heat, toast your sunflower seeds for a minute or so, until they get a little brown.

Mix the dressing with the greens and the toasted sunflower seeds. Serve and sprinkle the cilantro on top.
Related: Tenderstem Broccoli Nutrition