In this post I'm going to show you how to caramelise onions the healthy way – with no sugar.
I like to do this once a week to set myself up with the most delicious caramelised onions that are sweet, sticky and have a depth of flavour I LOVE.
Let's get into it.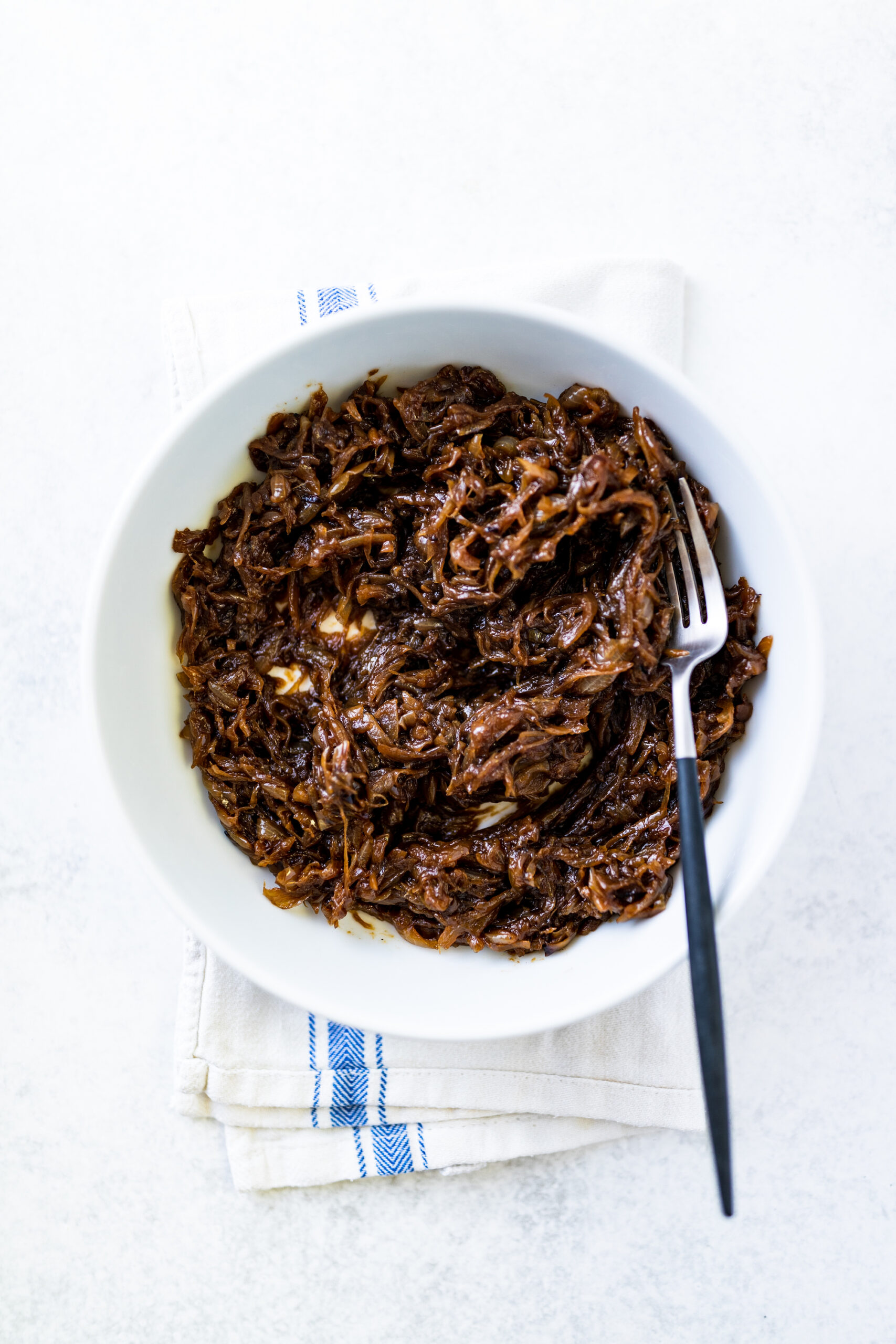 Caramelised onions are truly worth the time. They're so good on steaks, sausages, in soups, stew and of course burgers. They'll keep in a sealed container in the fridge for a week, no problem.
Oh, and to treat yourself do a rocket (arugula) goat cheese salad on sourdough bread and top with these caramelised onions.
Just thinking about that makes me want to get in the kitchen 🙂
if that's not enough, these caramelised onions can be the start of an incredible french onion soup.
Oh, they are fantastic in this Feta & Balsamic Frittata in place of the balsamic caramelised onions.
A few pointers before we get started:
Brown/yellow onions will give you the best caramelised onions. You'll get beautiful sweet caramelised onions, even without sugar.
Slice the onions in half, root to top. Remove the skin and the first layer, to get to the freshest layer.
Then slice the onions again root to top. Alternatively use a food processor with julienne blade to speed up the process.
Low and slow is really key. It should take 30 to 50 minutes. Better to start off too low with the heat because if you go too high too soon, it's makes it much more difficult to get a successful batch.
If you're working at too low of a temperature you won't get any browning. If that's the case, turn it up until you do.
Leave for 1 to 3 mins at a time between stirring.
Get a large sauté pan so the onions can move around.
Salt will draw out the moisture and help soften the onions.
Stages of development are soft -> juicy – browning -> caramelised.
Add some balsamic vinegar right at the end.
You'll see some people add sugar to the recipe, which is done to speed it up. Doing this is caramelising the sugar, not the onion. The onions get plenty sweet enough on their own if you take your time with it. From a health perspective it's much better not to add extra sugar.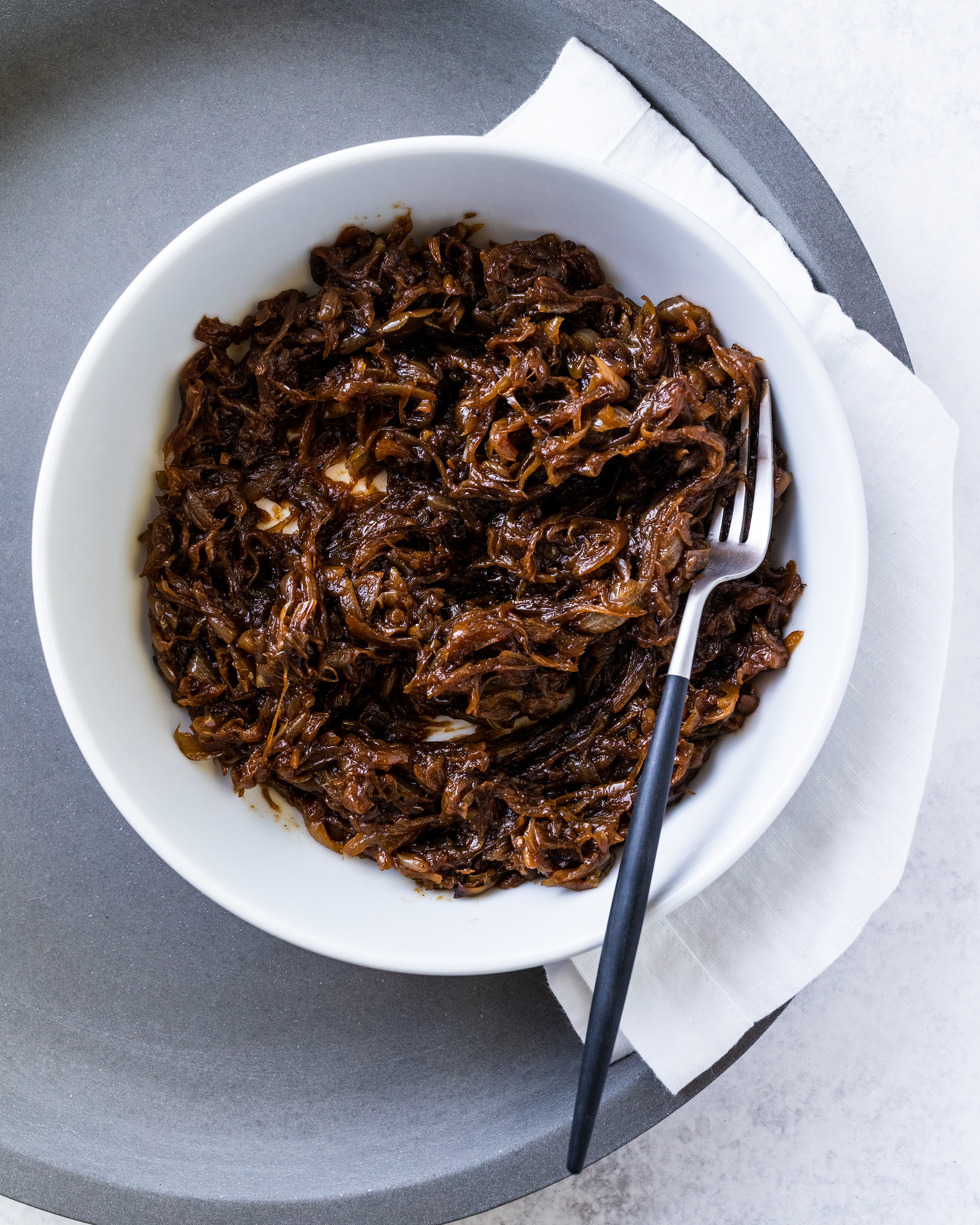 Caramelised Onions Recipe
Print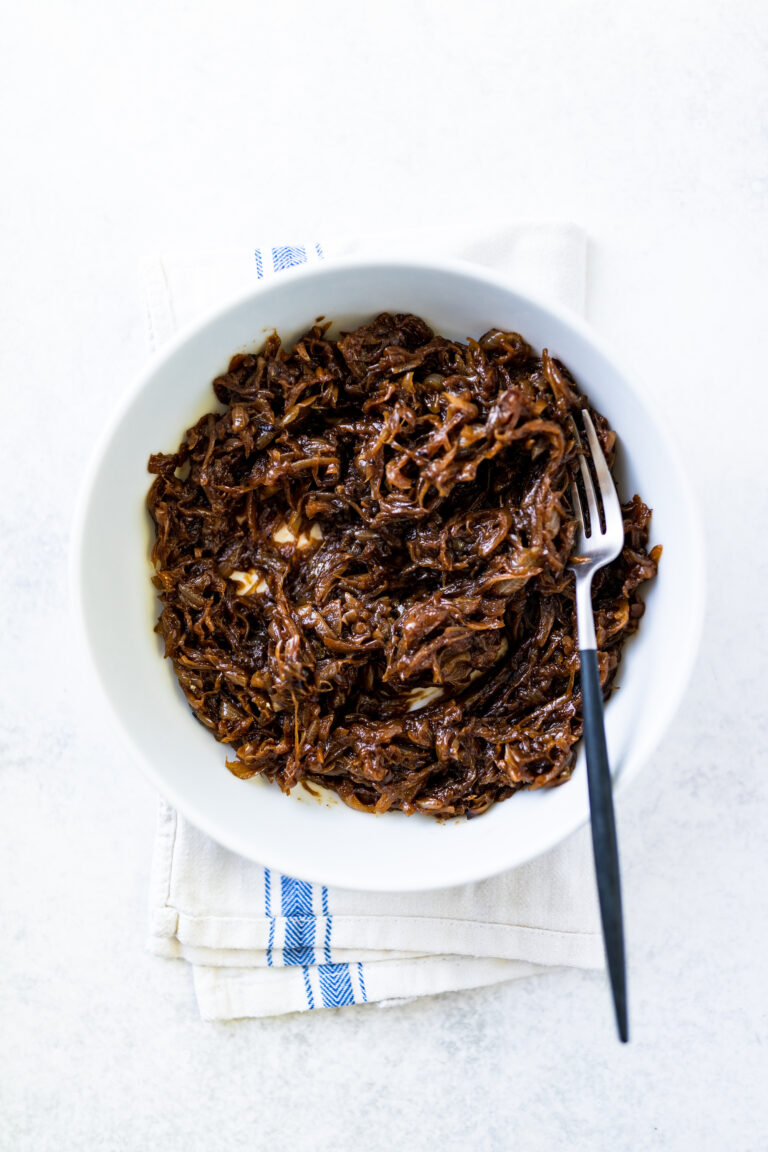 How to Caramelise Onions (No Sugar)
I like to do this once a week to set myself up with the most delicious caramelised onions that are sweet, sticky and have a depth of flavour I LOVE.
Total Time:

55 minutes

Yield:

20

servings

1

x
1

kg

onions

60

ml

olive oil

1 tsp

salt

1 tbsp

balsamic vinegar
Instructions
Peel the onions, being sure to remove all of the dry, papery outer layers.
Chop the onions in half from top to tail, then slice into half moons, again top to tail.
Heat the olive oil on a medium high heat. Test it's hot enough by placing one piece of onion in to make sure it sizzles.
Add the remaining onions and salt.
Keep moving the onions around with tongues until they become soft and juicy.
Leave for 1 to 2 minutes without stirring. If you get some browning, change to a spatula and scrape the pan. Leave again for 2 minutes.
If you didn't get browning, leave for another 2 minutes. If you still down't get a little browning, turn the heat up a little.
Be really careful not to burn the onions at this point. You should settle on a heat where you can leave the onions for 2 minutes and they develop some browning.
Continue this process for 20 to 30 minutes. By this point you should see some good caramelisation. The whole batch should have gone various shades of brown.
Turn the heat down to a low medium heat. Continue as before, leaving for 2 minutes at a time. This will create a deeper colour and caramelisation.
After around 45 to 50 minutes total time you should have nicely caramelised onions. Remove from the heat and stir in the balsamic vinegar.
These will store in the fridge in a sealed container for up to a week.
Nutrition
Calories:

47

Sugar:

2

Sodium:

119

Fat:

3

Saturated Fat:

1

Carbohydrates:

5

Fiber:

1

Protein:

1
Can Your Freeze Caramelised Onions?
You can definitely freeze caramelised onions. They're a wonderful thing to have on hand to add to burgers, pulled pork sandwiches, soups, stews and braised meats.