If you're looking for a healthy homemade tomato sauce recipe with extra nutrition, this is the one!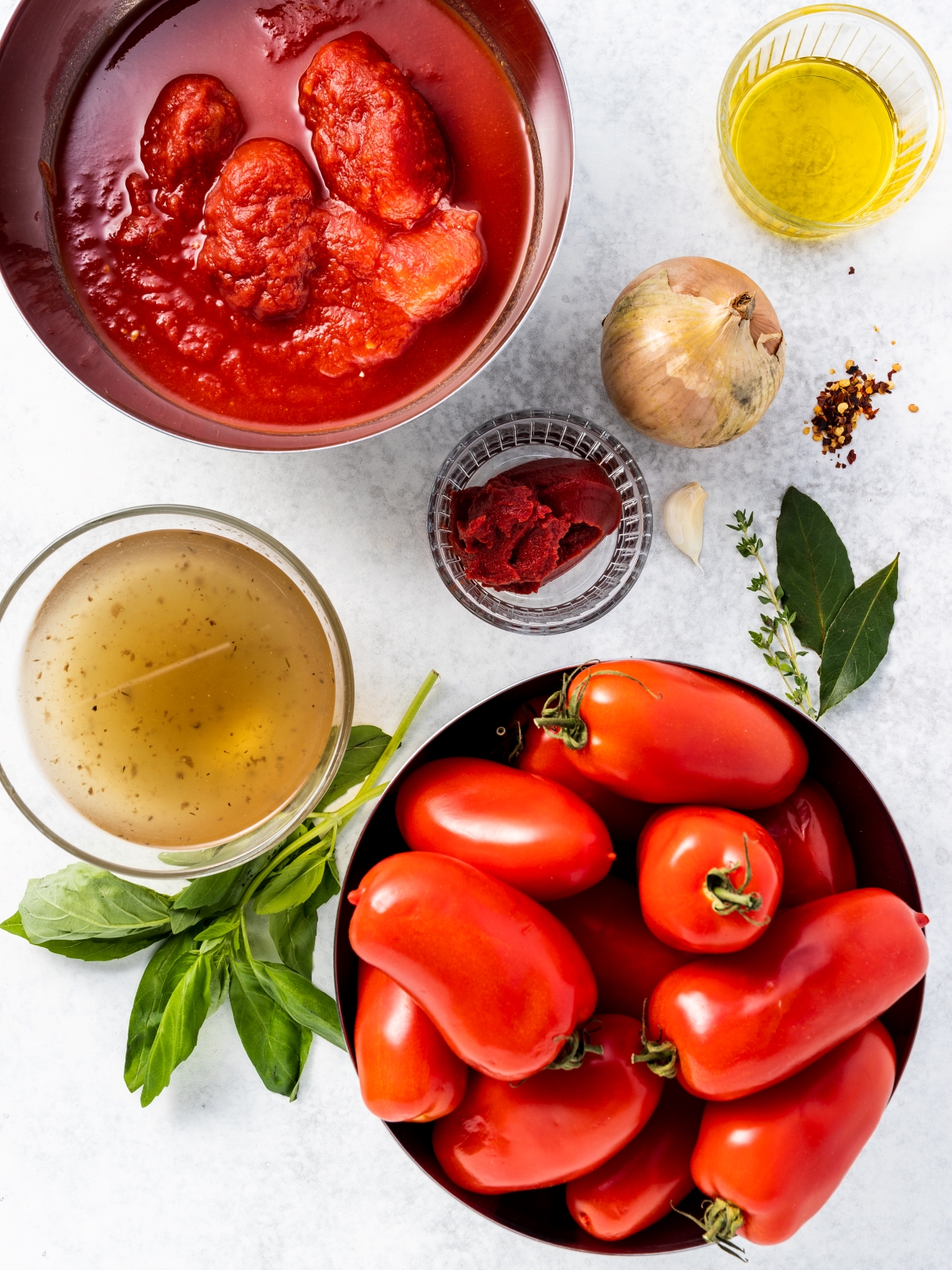 I love to make this tomato sauce with bone broth because you're getting the benefit of collagen, gelatin, amino acids, vitamins & minerals. Not to mention the added flavour! It does take longer to cook though, since you need to reduce down that liquid. If you want to do a quicker version, just leave out the bone broth.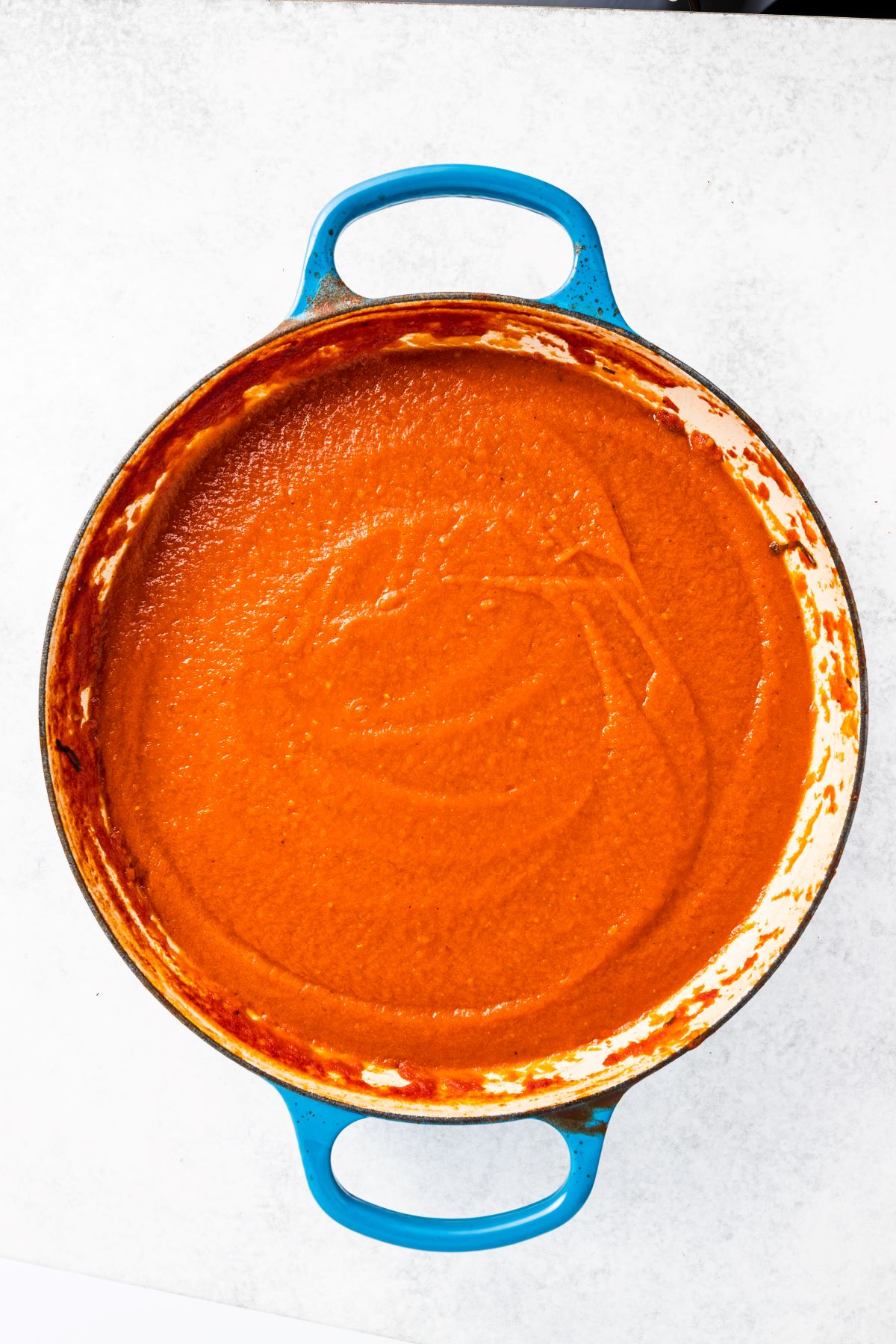 Print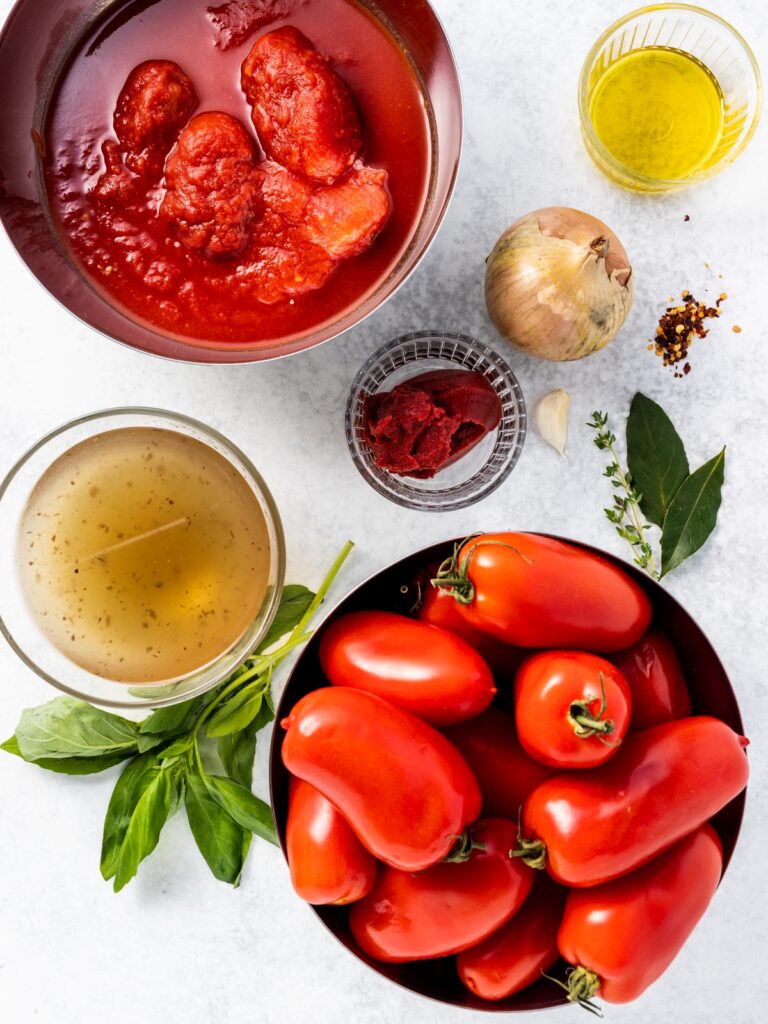 Tomato Sauce with Bone Broth
Total Time:

2 hours 10 minutes

Yield:

6

1

x
Ingredients
3 tbsp

olive oil

1

onion

1

clove garlic

8

basil leaves

2 tbsp

tomato puree

1.2

kg

San Marzano tomatoes ((plum tomatoes are also fantastic))

800

g

tinned tomatoes

2

bay leaves

2

sprigs sprigs

1

dried chilli ((optional))

250

ml

bone broth ((chicken or beef can be used))
Instructions
Method
Cut the root end off the tomatoes and make a small cross incision at the other end. This will easily enable you to peel the tomatoes after the next stage.
Bring a pot of water to the boil. Turn down to a simmer and put the fresh tomatoes in the water for 1 minute.
Drain off the tomatoes and peel off the skin. Cut the peeled tomatoes into chunks and set aside.
Finely dice your onions. Place your pot on a medium low heat and add the olive oil and when that's up to heat, add the onions.
Cook those for around 10 minutes, being sure not to add any colour to them.
Cut the garlic into slivers and add to the pan for a further 3 minutes.
Tear the basil and add to the pan. Cook for 2 minutes.
Add tomato paste and cook for 3 minutes.
Turn up heat to medium and add the stock, bay leaves, thyme and dried chilli (if using).
Cook for 5 minutes to reduce it down.
Add the fresh tomatoes and the tinned tomatoes.
Cook on medium low for 90 minutes, or until the desired consistency has been achieved. 20 minutes into this 90 minutes remove the thyme, bay leaves and chilli.
You can leave the sauce like this if you prefer it chunky. If you want a smooth sauce, remove from the heat and blend with a stick blender or a countertop blender. You may want to let it cool before blending.
Transfer to 3 individual containers. Allow to cool before freezing or refrigerating.
Prep Time:

10 minutes

Cook Time:

2 hours

Category:

Sauce

Cuisine:

Italian
Nutrition
Calories:

157

Sugar:

12

Sodium:

204

Fat:

8

Saturated Fat:

1

Carbohydrates:

20

Fiber:

5

Protein:

6