Quick and easy chicken tacos that are great for lunch or dinner. These could easily become your new favourite meal
My summer of 2019 can could have been summed up by one word: tacos. I pretty much went through the summer of 2019 eating tacos of various kinds. Sometimes twice a day!
They were usually some variation of chicken and mayo with something else. Sometimes a little bacon, sometimes just chicken and maybe with lemon and black pepper.
More recently I've been playing around with the recipe you see here, combining red cabbage sauerkraut and chicken. Of course with my favourite chipotle chilli sauce.
The balance of lemon and pepper chicken with the acidity and flavour burst from the sauerkraut make this so perfect.
You could also use pickled red cabbage for this, but I prefer the sauerkraut. If you use sauerkraut make sure you get a raw one. Raw sauerkraut can usually be found in the refrigerated section of the store. Any sauerkraut in the regular grocery aisle will have been pasteurised, so much of the beneficial bacteria won't be present.
I've used these Cool Chile Co. soft tortillas. As you can see from that link, they can be ordered online or found in Wholefoods. If you're outside the UK you might need scout around for the best tortilla shells to use. You may already have soft tortillas you'd like to use. If that's the case, but they're much bigger than the 15cm (6in) ones I use, just use one and double up the filling.
Chicken & Broccoli Tacos
You'll see in the background of the images there's a different filling. These are very similar tacos with chicken and broccoli. All you'd need to do is switch out the sauerkraut for steamed broccoli. One portion of this recipe is 2 tacos, so having one of each – chicken & broccoli and chicken & sauerkraut – feels like a real feast.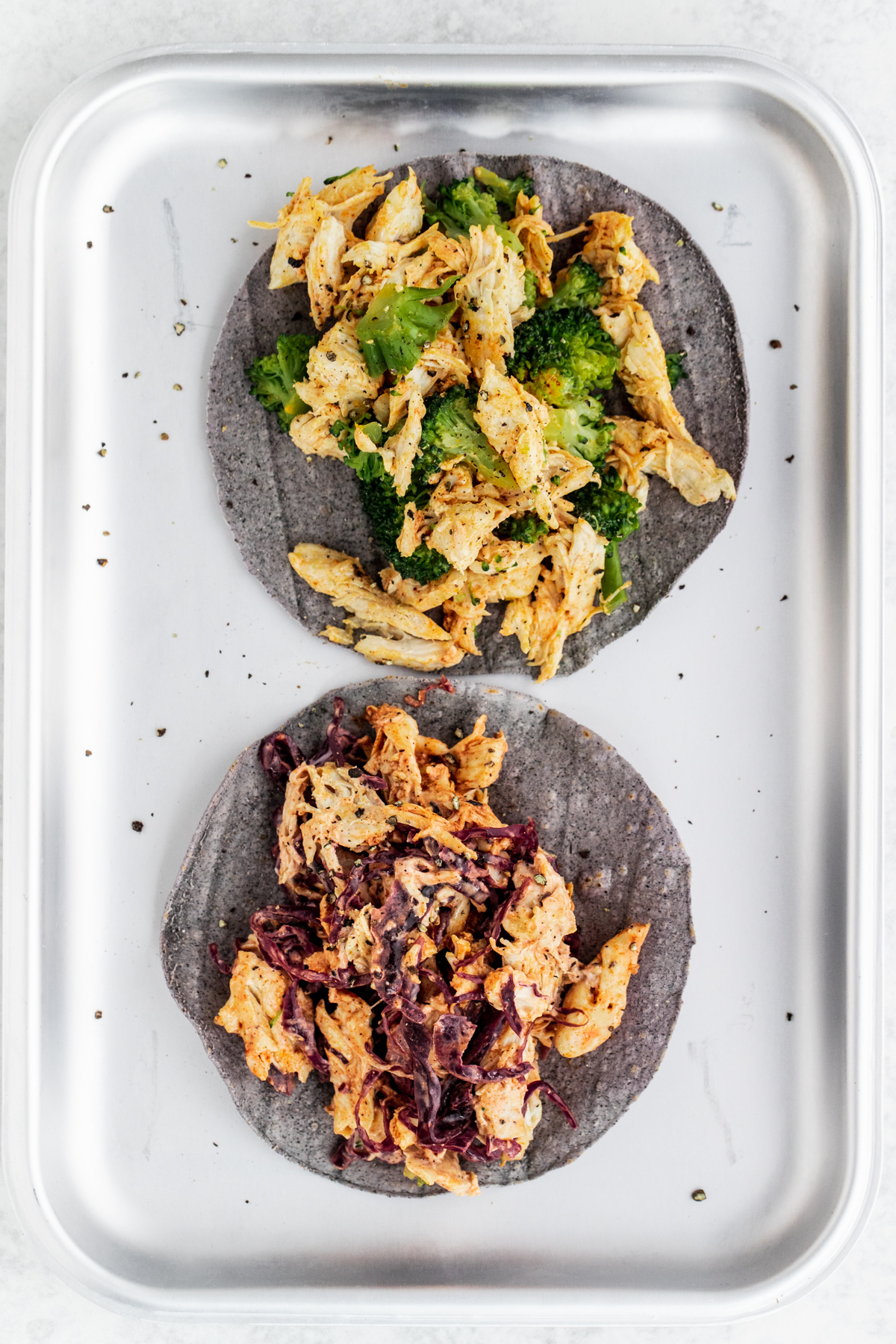 How to Make Chicken & Red Cabbage Sauerkraut Tacos
Here's an overview of how to make these tacos. Refer to the full recipe below for measurements and detailed instructions.
You'll be laying out your chicken breasts on a baking pan lined with greaseproof parchment paper. You'll see I'be used mini-fillets because that's what was available, but regular skinless breast fillets are great too.

You can see in the image below that I've left enough parchment hanging over the side to cover them. This helps keep them juicy during cooking.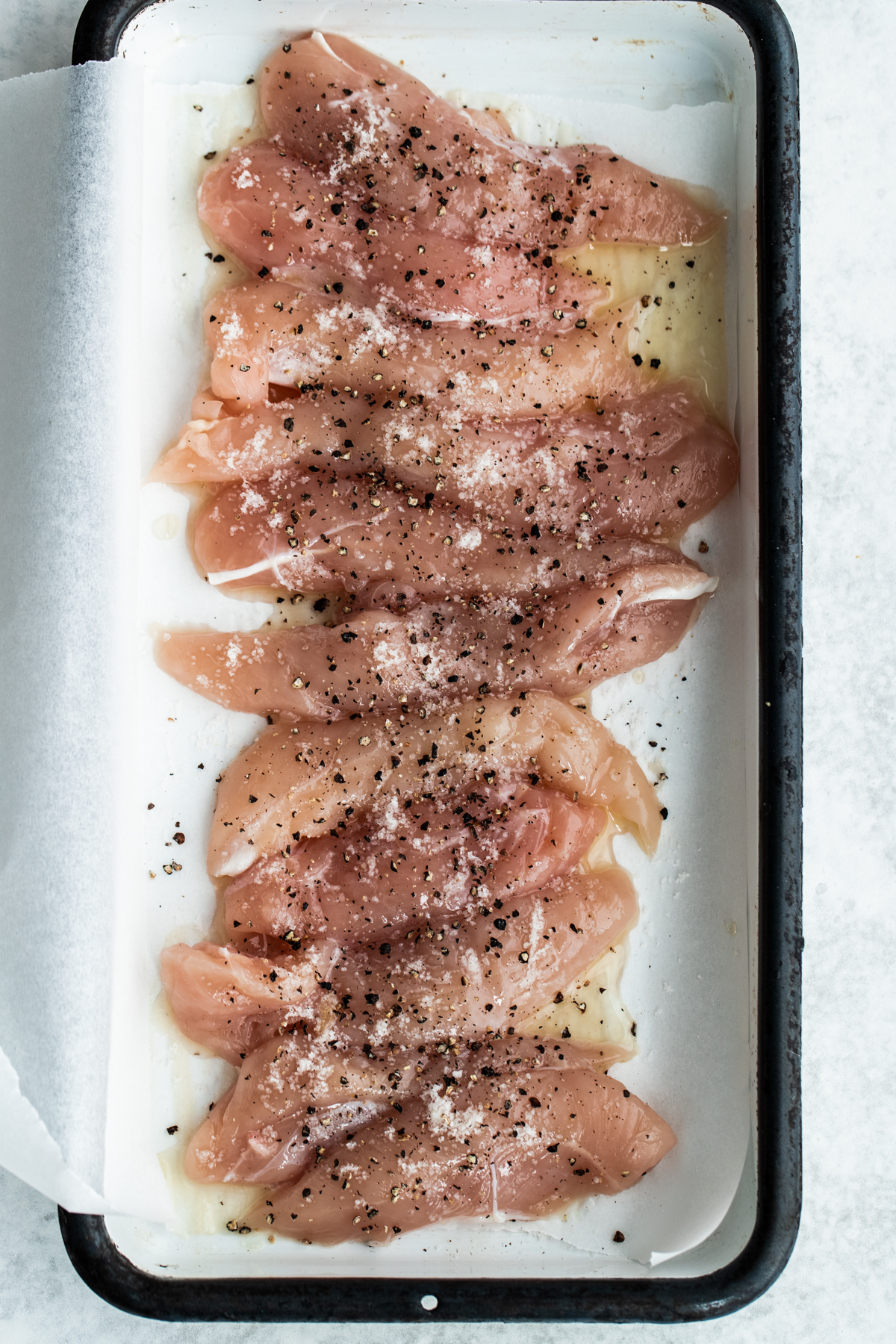 Whilst they cooking you're going to need to warm your soft tortillas. Like to have them soft (not warmed so much they go crispy) but with a few brown spots on.

Once your chicken breasts are cooked you'll want to shred them with two forks, ready to go in a bowl.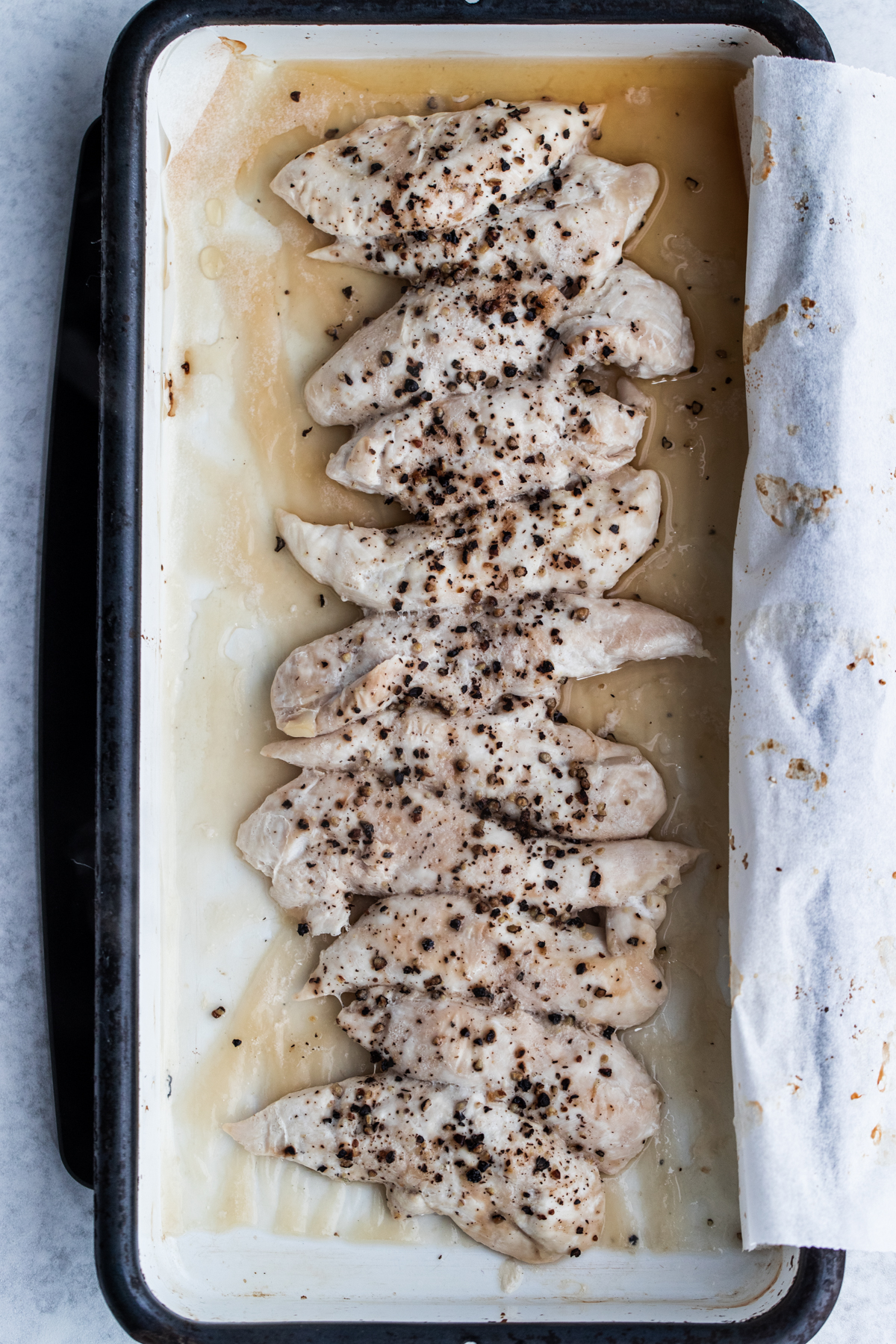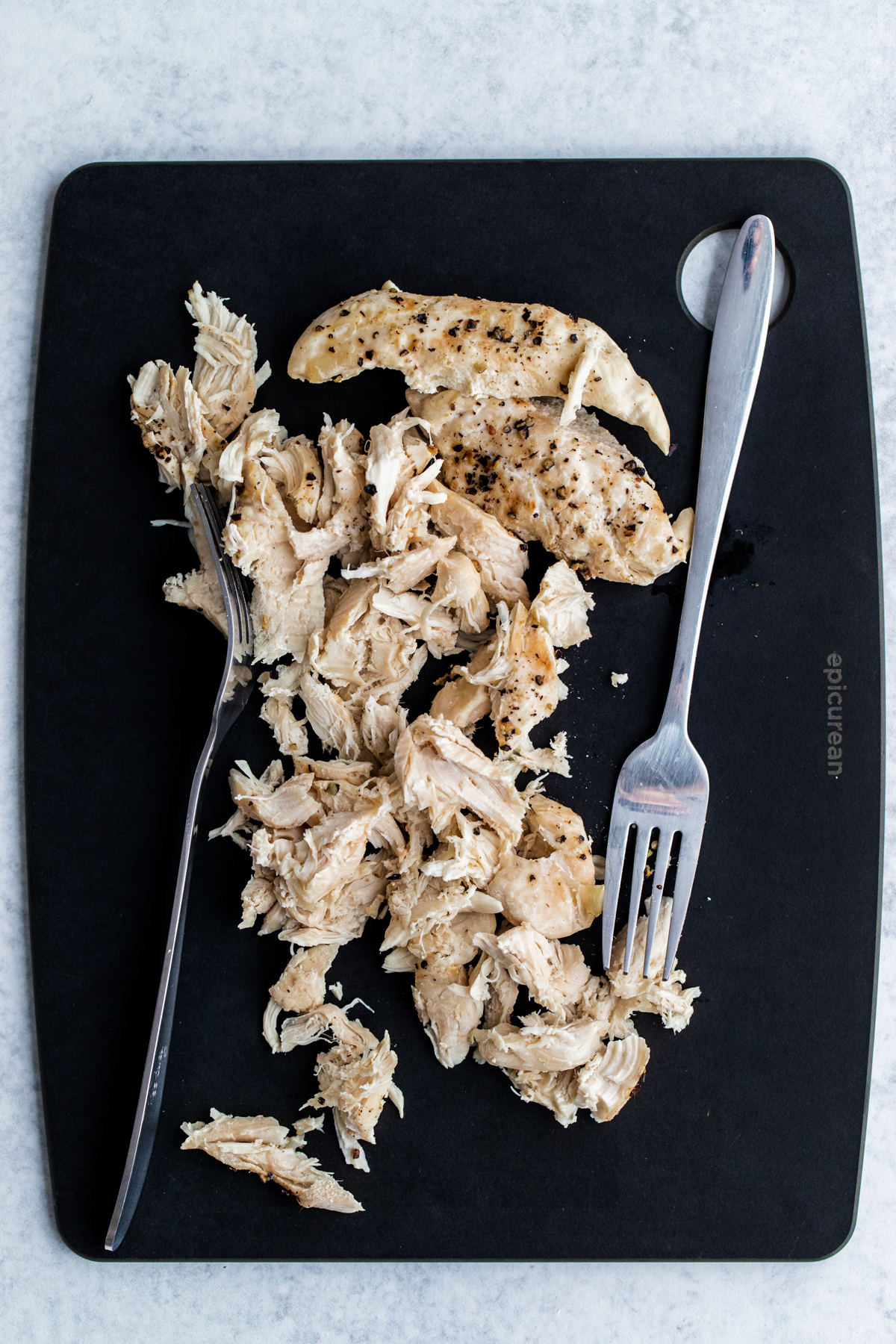 In the bowl with the chicken you're going to add the mayo, hot sauce and sauerkraut. Give this a mix up and your filling is ready to add to the tortillas.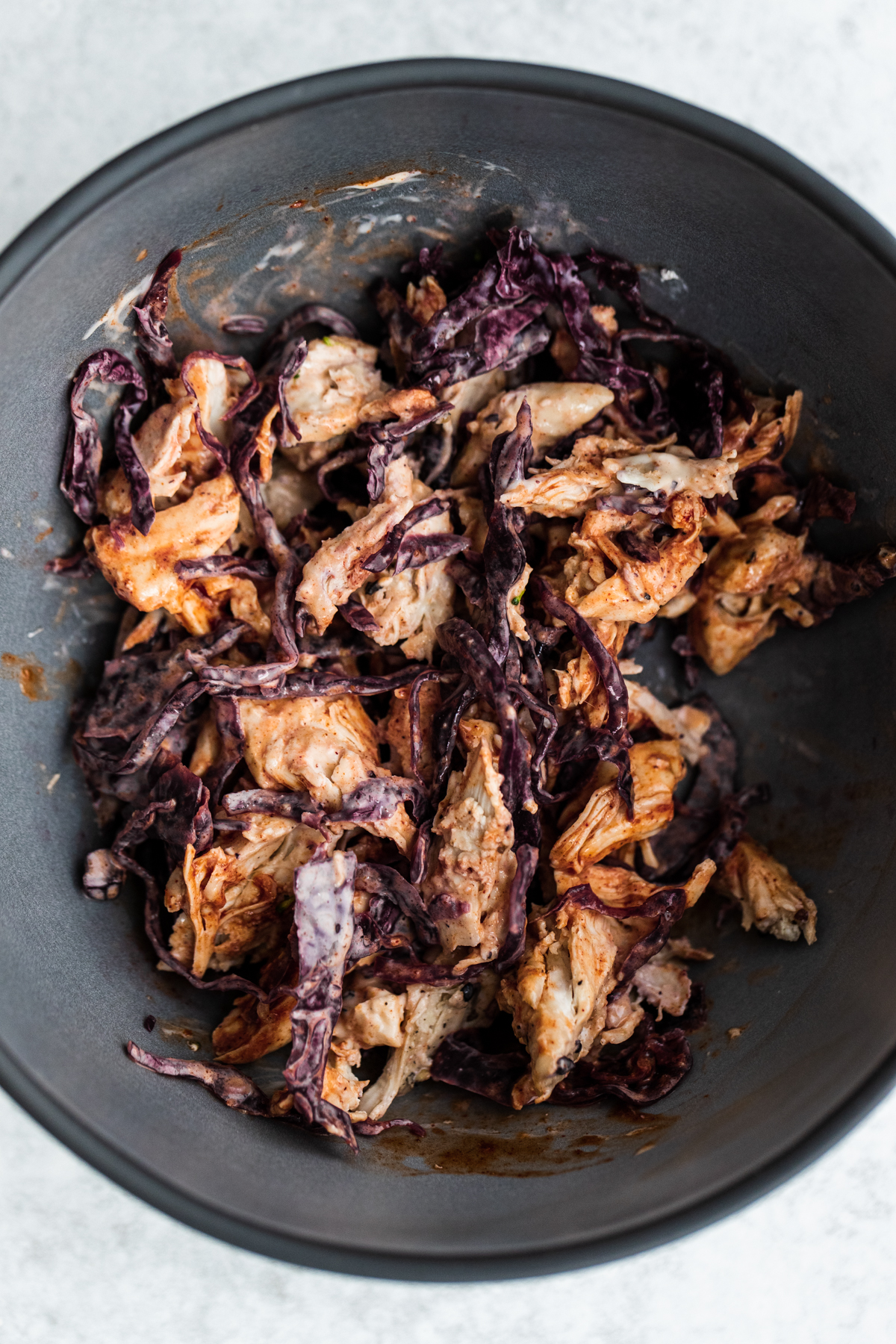 Chicken & Red Cabbage Sauerkraut tacos recipe
Print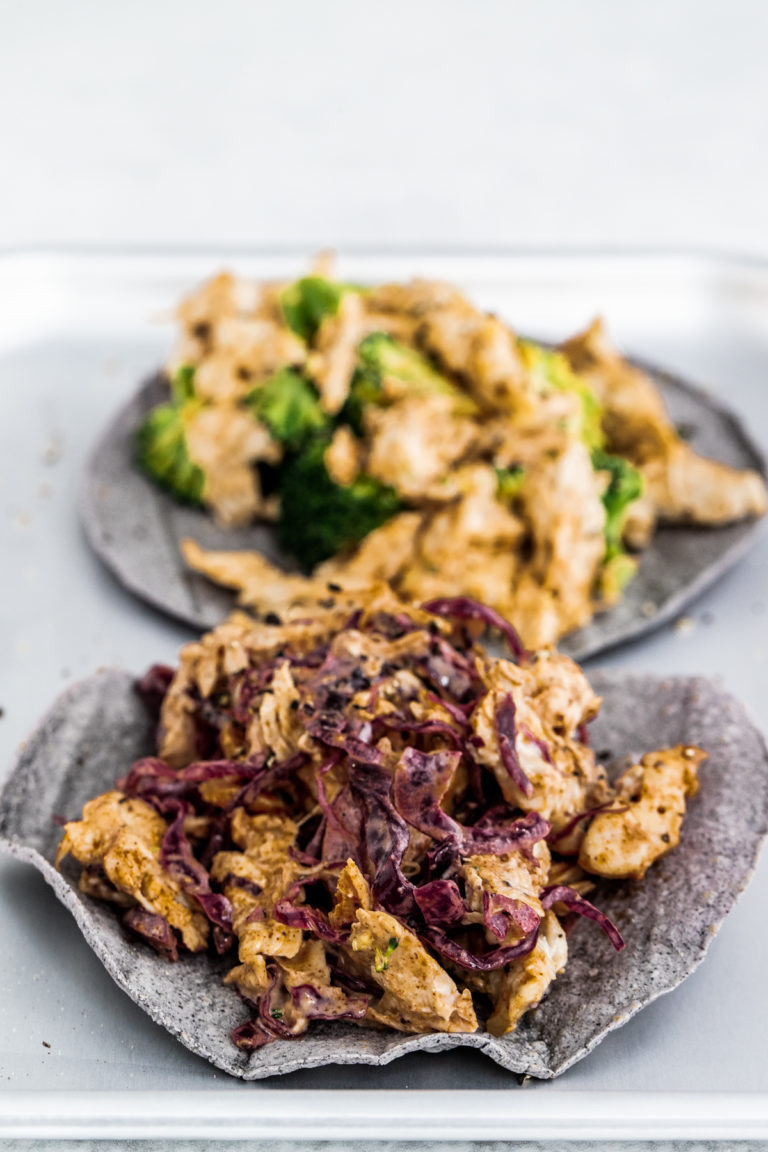 Chicken & Red Cabbage Sauerkraut Tacos
Quick and easy tacos that are great for lunch or dinner. These could easily become your new favourite meal
Total Time:

27 minutes

Yield:

2

1

x
300

g

skinless chicken breasts

2 tbsp

lemon juice

1/4 tsp

ground black pepper

1/2 tsp

salt

1 tbsp

mayonnaise

1 tsp

chipotle sauce ((or any favourite hot sauce))

140

g

red cabbage sauerkraut ((or pickled red cabbage or any sauerkraut))

4

corn tortillas ((I use Blue Soft Corn 15cm Tortillas from Cool Chile Company))
Instructions
Preheat the oven to 200C (390F).
Cover a baking dish with parchment, leaving enough to fold over the top to cover the fillets when cooking.
Place your chicken breast fillets on the parchment. Pour over the lemon juice and sprinkle on the salt and pepper. Cook for 17 minutes.
Warm the tortillas in a medium pan under they are the texture you like. I like to have them soft, with a few brown spots.
Use a fork to shred your chicken and transfer to a bowl.
To the bowl add the mayonnaise, chipotle sauce, sauerkraut. Mix together and taste for seasoning. Add more salt if needed.
Equally divide the filling amongst the tortillas and serve.
Notes
One serving is 2 15cm tacos
Prep Time:

10 minutes

Cook Time:

17 minutes

Category:

lunch, Main Course

Cuisine:

Mexican
Nutrition
Calories:

323

Sugar:

2

Sodium:

1313

Fat:

10

Saturated Fat:

2

Carbohydrates:

23

Fiber:

5

Protein:

35

Cholesterol:

99
Keywords: chicken, pickled cabbage, taco