It's everyone over to yours for Sunday brunch with this recipe under your belt.
Print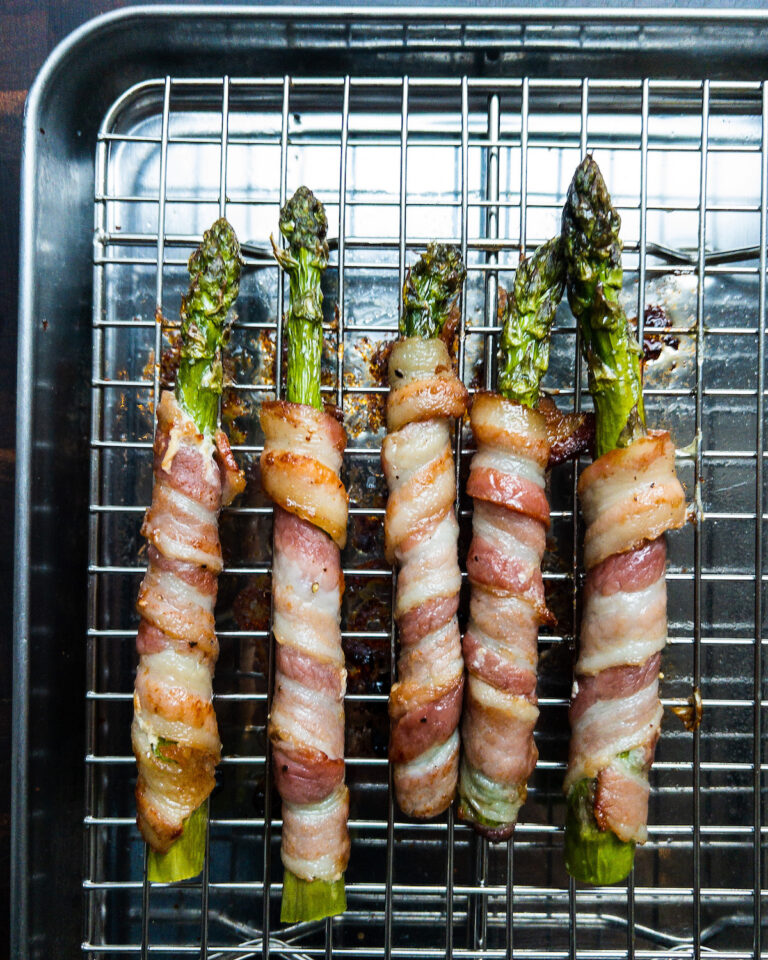 10

stalks asparagus

10

rashers of streaky bacon

1 tbsp

olive oil
Pinch salt
Pinch black pepper
Instructions
Cut about about 3cm off the base end of the asparagus to get rid of the woody, fibrous parts. If you want to taste the difference, cut a tiny piece from the very base and taste it, then a piece from the stalk you're using. There should be a marked difference in taste and texture; that being the main stalk tastes good raw and the woody end is fibrous and tastes bitter.
Toss the asparagus in the olive oil, salt and pepper.
Wrap each stalk of asparagus in one rasher of bacon.
Air fryer method: Preheat your air fryer to 160c and then cook for 9 minutes.
Oven method: Preheat oven to 170c and cook on a wire rack tray for 18 minutes.
Serve with poached eggs and grilled sourdough for a fantastic Sunday brunch.
Tips:
If you're looking to eat less oil you can leave it out, but your asparagus tips will get a bit brown. If you don't mind that, you're good. A middle ground would be to only oil the tips.
Try to wrap the bacon with little or no overlap. I like to wrap it and then go back to make little adjustments, making it tighter and getting rid of any overlap as I go. You can always trim the bacon if there's too much for the asparagus you're using.