This fantastic easy Fake Pho makes a simple, delicious and hearty dinner, inspired by the the traditional (and more labour intensive) Vietnamese breakfast dish.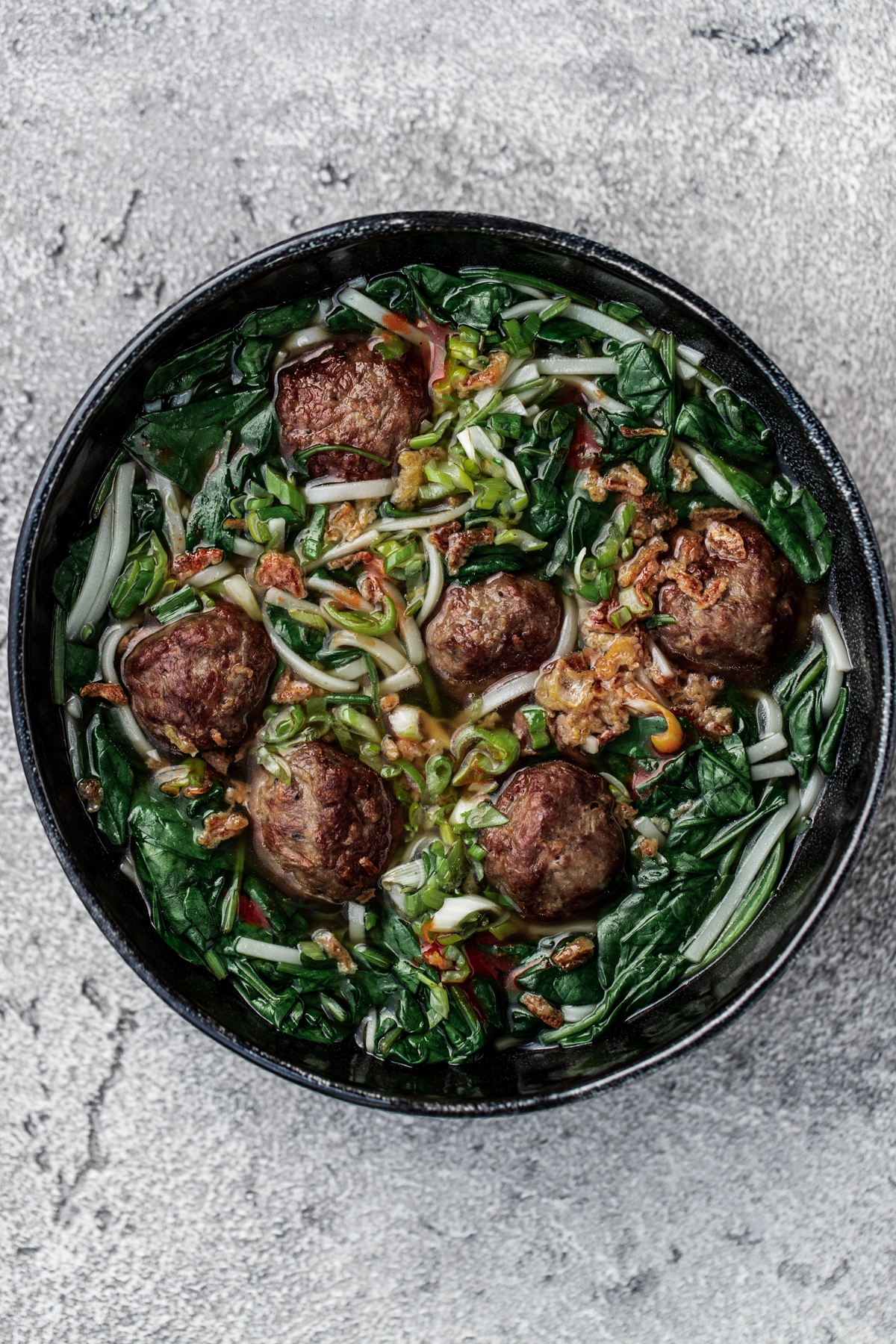 OK, let's get this sorted straight away, it's pronounced, "fuh". If you're in he UK and have ever been to the restaurant named Pho, they pronounce the restaurant itself, "fo". Not sure if they're being ironic, or if they made that decision so they could make their takeout service rhyme as, Pho to Go!".
In any case, I have that restaurant to thank for my love of pho.
Pho for Breakfast
Pho (the dish) has been a favourite in our household as a dinner menu for some time now. It was only recently that I learned it's served as a breakfast dish in Vietnam where it originates from. Another interesting factoid is that 'Pho' refers to the noodles, not the soup itself.
I'm excited to one day get to sample this as a breakfast dish in Vietnam, but for now, I love making this dish every couple of weeks or so. Sometimes I do a chicken version with skin-on chicken thighs in the slow cooker. And then of course there's this version with the meatballs.
Traditionally you'd use strips of beef, partially cooked, so the broth continues to cook them as it's being eaten and served.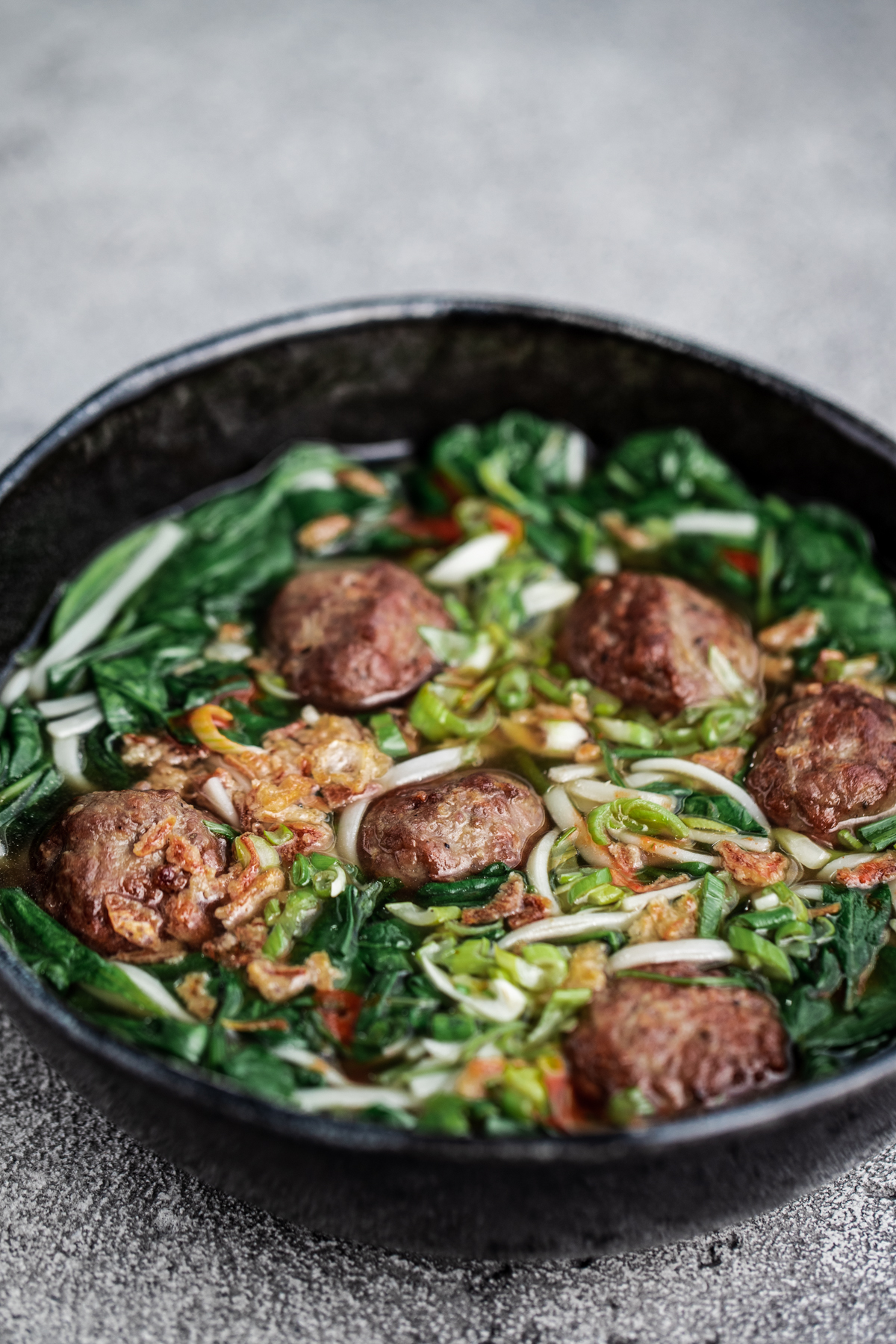 For the Pho Broth
Whichever version I'm making (chicken or beef) I'll use this Organic Pho Broth, which is a chicken based broth. You could of course make your own pho broth, from beef or chicken bones. If you're making the broth for pho from scratch, add in these ingredients at the start:
Onions
Apples
Ginger
Fish Sauce
Cinnamon
Pink Himalayan Salt
Coriander Seeds
Coriander Leaves
Star Anise
Cloves
How to Make Easy Meatball Pho
Here are some tips for making this fantastic Easy Meatball Pho. For the full instructions, refer to the complete downloadable pho recipe below.
Meatballs: I bought organic beef meatballs from Waitrose. You could also make your own. It would be nice to mix it up and make your own chicken, turkey or venison meatballs too! Like to 6 meatballs per person. I feel like anywhere between 4 to 6 per person is a good amount.

If you have an air fyer, I highly suggest cooking the meatballs with it. So easy!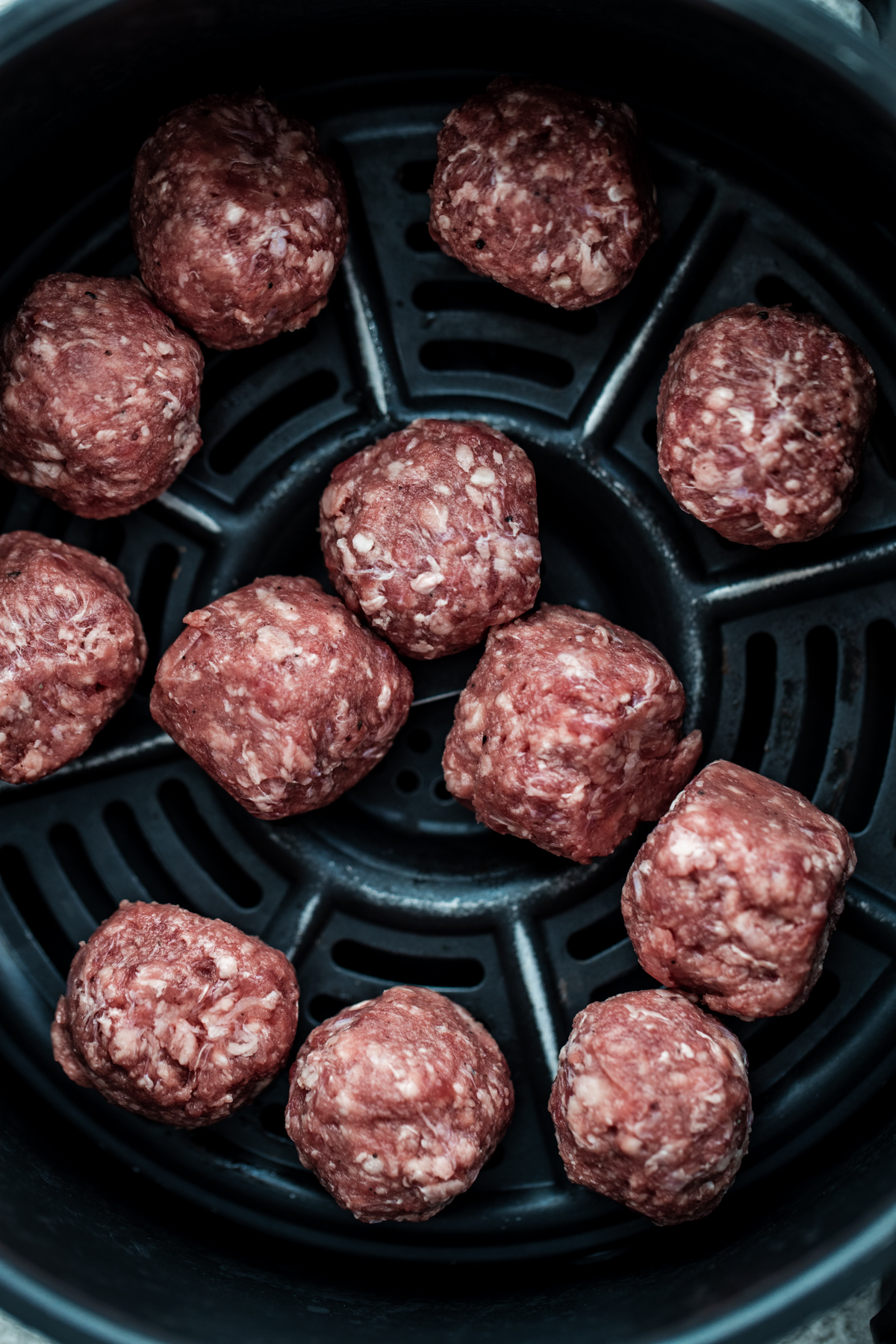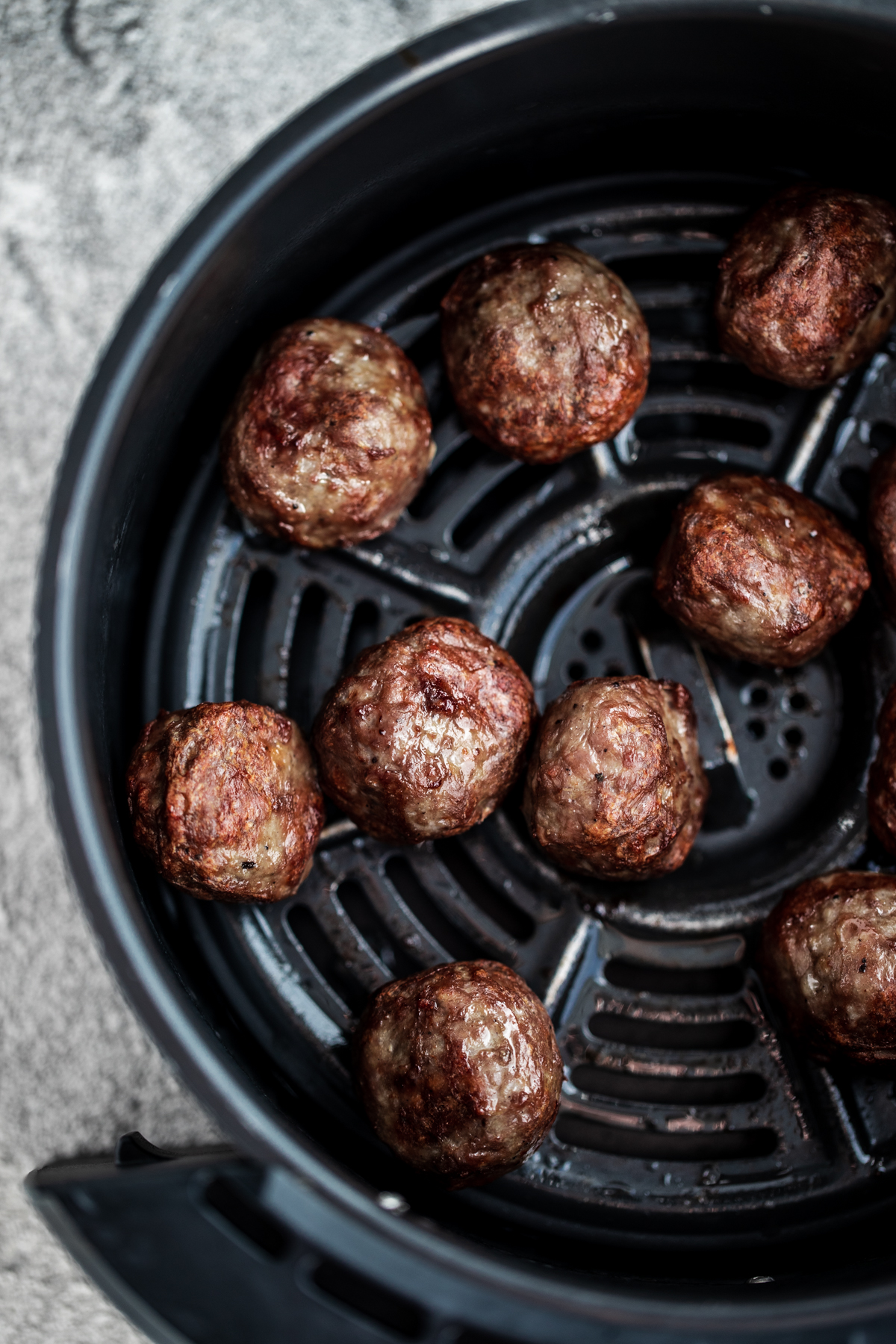 Spinach: Not traditionally used as far as I can tell, but we love adding it. Seems to give a much more satiating dish that feels even more nourishing. It's also never a bad thing to add greens in to your diet.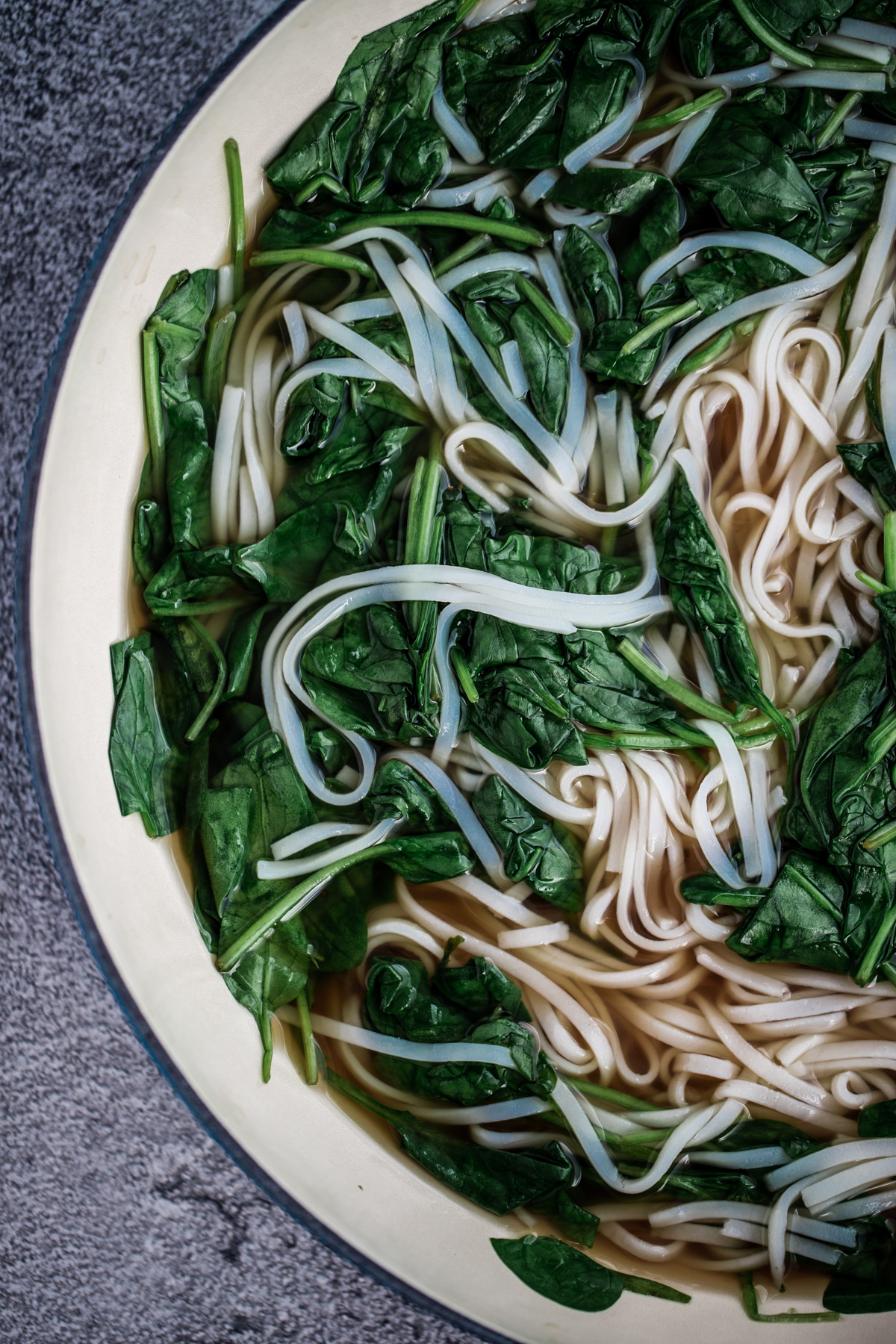 Tamari & Worcester Sauce: The pre-made Pho Broth I mentioned earlier is fantastic on its own. But it you want a little extra flavour, add in a splash of each of these.

Sriracha: If you want to add a little extra spice to your pho, you'll want to use sriracha. Having a bottle at the table as you're eating will allow each person to chose their sauce / spice level.

Noodles: It's really important to use white rice noodles for an authentic pho. I like to cook these first and then run them under a cold tap to stop them from cooking further. Overcooked rice noodles lose their pleasing texture. When I'm ready to serve, I add them to the pho broth to warm through again.
The other reason I like to rinse them after cooking is so the surface starch gets rinsed off.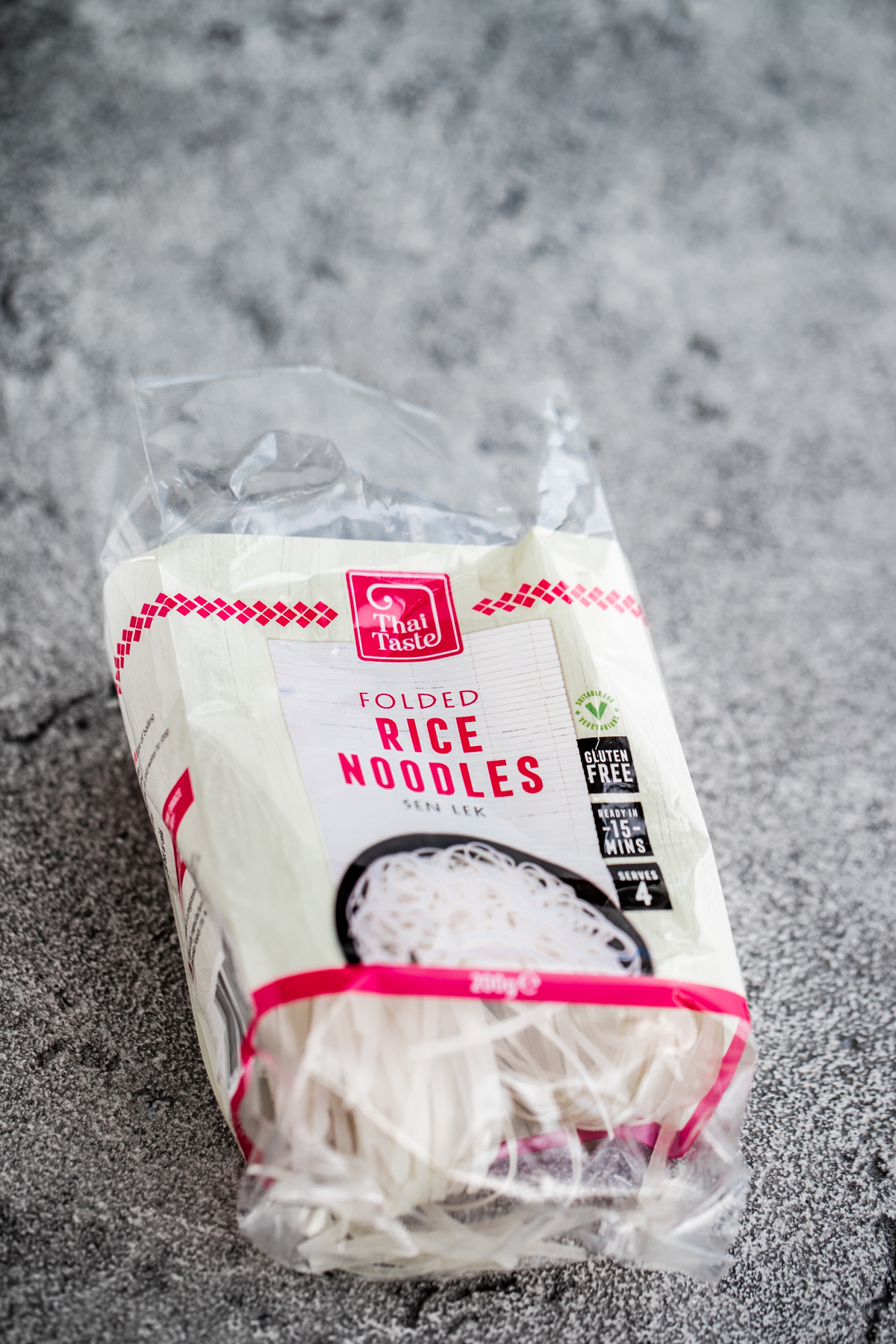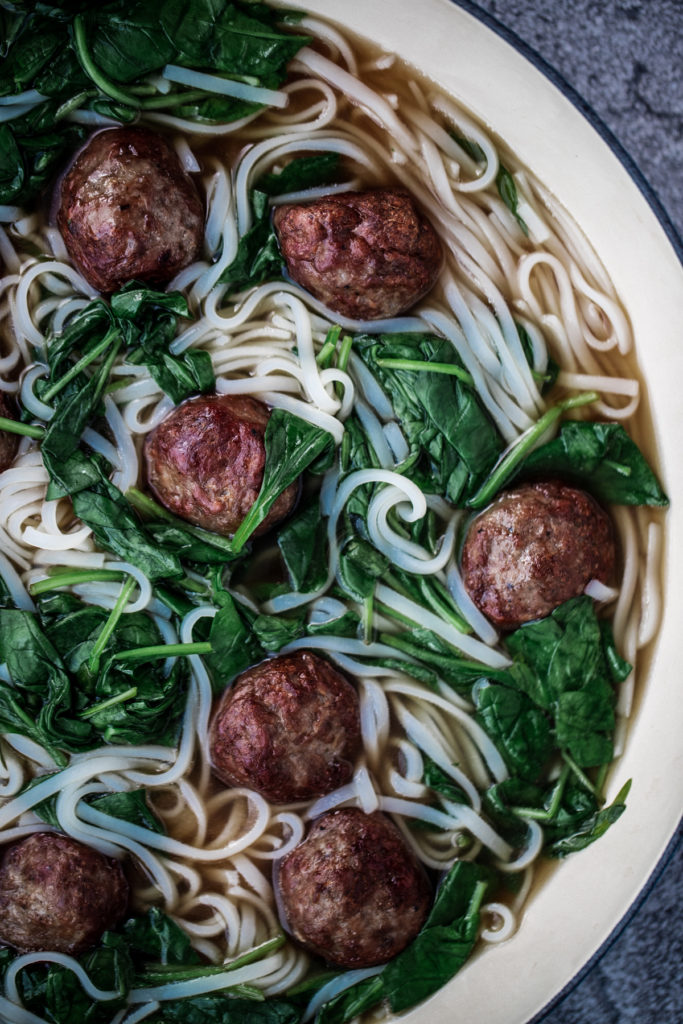 Beansprouts: I haven't added any here, but feel free to throw in a handful for each person when ready to serve.
Easy Meatball Pho
This fantastic Easy Meatball Pho makes a simple, delicious and hearty dinner from this traditional Vietnamese breakfast dish.
Nutrition (For one serving)
Sodium:
1140
mg
Calcium:
113
mg
Vitamin C:
38
mg
Vitamin A:
5746
IU
Sugar:
1
g
Fiber:
2
g
Potassium:
998
mg
Cholesterol:
108
mg
Calories:
610
kcal
Saturated Fat:
12
g
Fat:
33
g
Protein:
30
g
Carbohydrates:
46
g
Iron:
4
mg
Ingredients
100

g

white rice noodles

300

g

beef meatballs

(or try pork, chicken, turkey or venison)

500

ml

pho broth

1

red chilli

2

spring onions

1

tbsp

ginger

(peeled & minced)

120

g

spinach
Instructions
Bring a 1 litre pan of water to the boil and cook the noodles to the instructions on the packet. This is likely to be 10 minutes. You can time this to finish when the rest of the dish is ready, or you can get them done straight away, running them under cold water when done, so they can be added to the broth to warm up when serving.

Cook the meatballs according to the cooking instructions. In my Ninja Air Fryer I like to do them at 200C (390F) for 5 minutes, give them a shake so they all turn, then give them another 5 minutes at the same temperature.

Start to warm the both in a large pan.

Bring another pan to a medium heat with a little coconut oil in it. Toss in the chilli, spring onions and ginger. Cook for 2 mins, then transfer to the broth. I like to keep some reserved for garnishing.

If you're adding in tamari and Worcester Sauce, do that now.

Add the noodles and meatballs to the broth, so the noodles get warmed through. This should only take a few minutes.

Add the spinach to the broth to wilt down. This should only take about a minute.